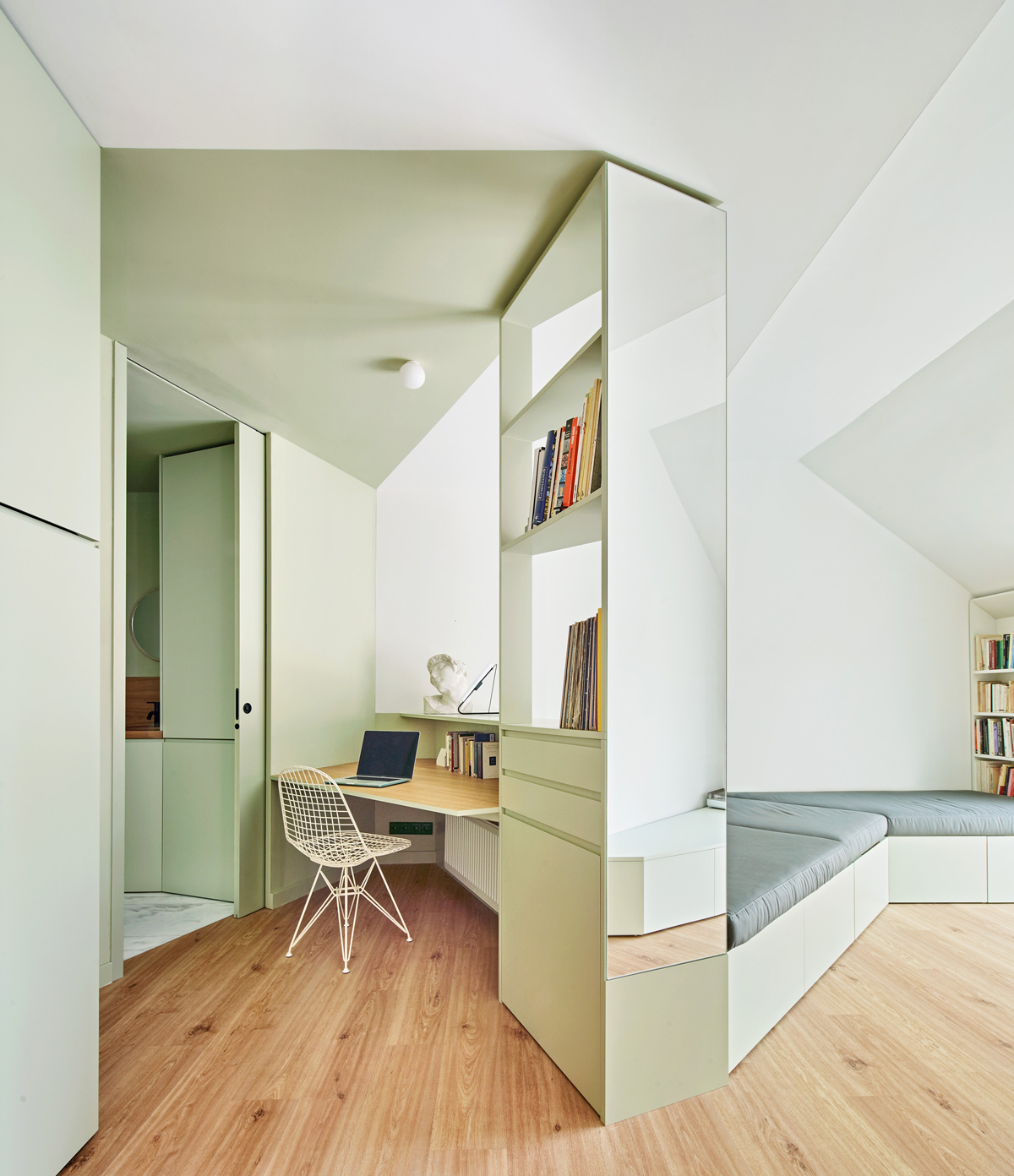 Source: AMOO 
Photography: José Hevia
ES
La vivienda se sitúa en la planta sobreático de un edificio construido en el año 1959 en el barrio de Gracia de Barcelona. El edificio tiene 2 puertas por rellano, aunque tanto la planta ático como la planta sobreático disponen sólo de 1 una puerta.
La estructura de la vivienda es de muros de carga. El rectángulo que forma la planta queda troceado por el núcleo de ascensor y escalera, así como por un muro de carga. La zona común queda orientada en la fachada SO, mientras que la zona de habitaciones queda orientada en la fachada SE. La superficie total es de 60,46m².
El proyecto, desde un inicio, plantea invertir la distribución de usos de la casa. Se derriban todos los tabiques, y dada la negativa de la comunidad de vecinos, se evita cualquier intervención estructural, a diferencia de las propuestas iniciales aprobadas por el ayuntamiento. La propuesta es clara según las demandas de la clienta: una gran habitación con baño y vestidor totalmente abiertos y una gran zona común donde trabajar y recibir sin estrecheces.
La particularidad de la envolvente, con una fachada continua de 1,65cm de altura y un faldón inclinado que la acompaña (reflejo de la cubierta), junto al núcleo de acceso y al muro de carga, lleva a resolver el programa mediante mobiliario a medida que adapta espacios de forma ambivalente, incluso ambigua. Sofás que son camas que se convierten en escritorios, camas que son armarios que se convierten en bañeras. Y como representación de esta fluidez de usos, un dato: el piso, más allá de la obligatoria puerta de acceso, sólo dispone de una puerta, la del baño de cortesía, para comodidad de los invitados.
En paralelo, la fachada SE, la de mayor longitud, se resuelve con una estantería trasdosada para aumentar el aislamiento de la fachada y corrida de lado a lado, que recoge y singulariza todas las ventanas, originalmente de poca entidad, resultando un elemento homogeneizador.
Como último detalle, una pilastra jónica de mármol rosado en la testa del muro de carga que no se permitió derribar lo refuerza simbólicamente, apuntalando la tranquilidad general de la comunidad.
EN
The house is located on the top floor of a building built in 1959 in the Gracia neighbourhood of Barcelona. The building has 2 doors per landing, although both the attic floor and the top floor have only 1 door.
The structure of the house is made of load-bearing walls. The rectangle that shapes the floor is divided by the elevator and staircase core, as well as by a load-bearing wall. The common area faces the SW façade, while the room area faces the SE façade. The total area is 60.46 m².
From the beginning, the project plans to reverse the distribution of the house's uses. All the partitions are demolished, and given the refusal of the Community of Owners, any structural intervention is avoided, unlike the initial proposals approved by the City Council. The proposal is clear according to the client's demands: a large room with a fully open bathroom and dressing room and a large common area to work and welcome guests without any constraints.
The unusual envelope of the building, with a continuous 1.65cm high façade and an accompanying sloping skirt (reflection of the roof), together with the access core and the load-bearing wall, leads to solve the program through custom-made furniture that adapts spaces in an ambivalent and even ambiguous way. Sofas that are beds turn into desks; beds that are wardrobes turn into bathtubs. And as a representation of this fluidity of uses, the apartment, beyond the obligatory access door, only has one door: that of the courtesy bathroom, for the guests' convenience.
In parallel, the SE façade – the longest one –, is solved with a cladded shelf to increase the insulation of the façade and, running from side to side, it collects and singles out all the windows (originally of little importance), resulting in a homogenizing element.
As a last detail, a pink marble Ionic pilaster on the head of the load-bearing wall that was not allowed to be demolished, symbolically reinforces it, underpinning the general calmness of the Community.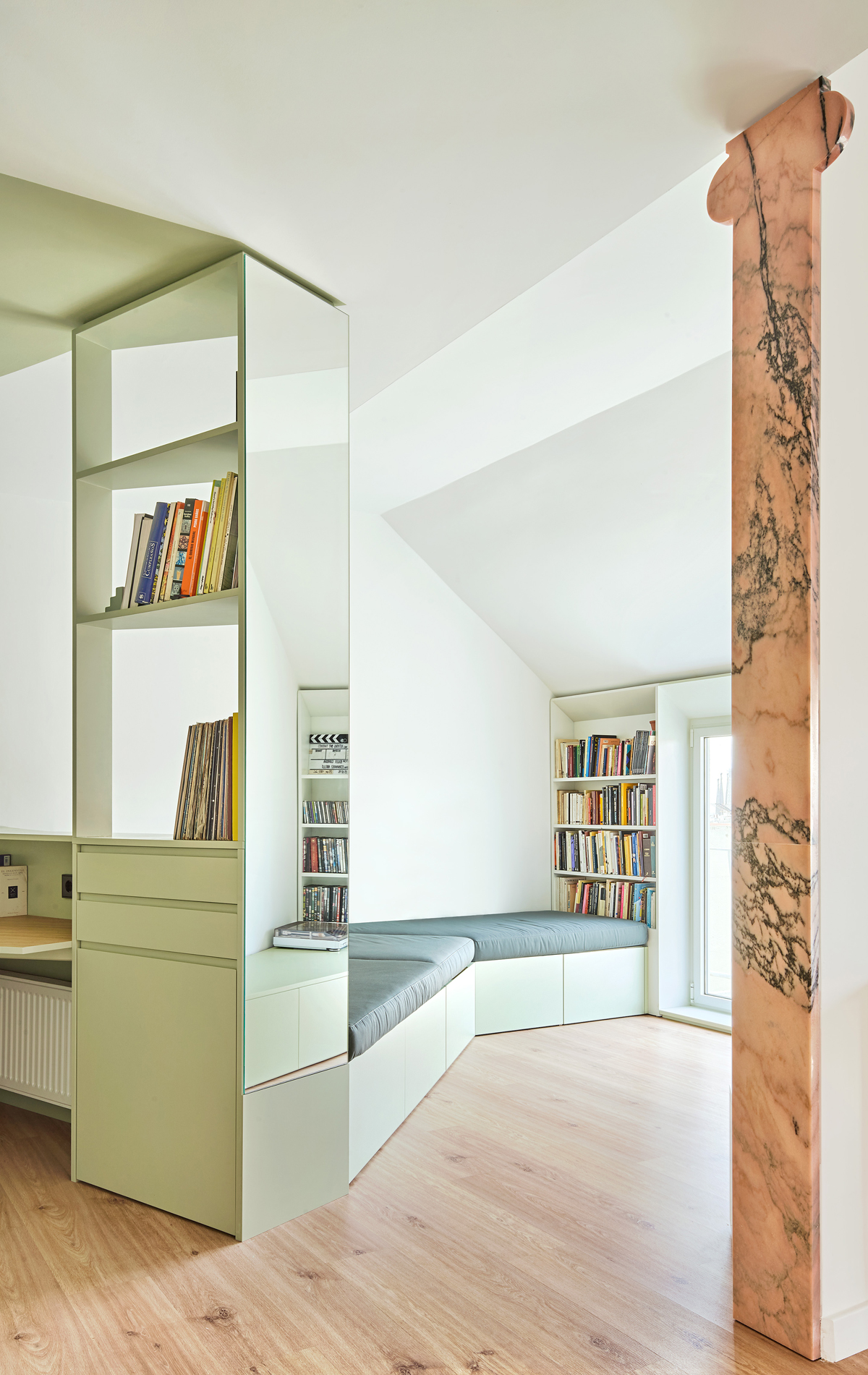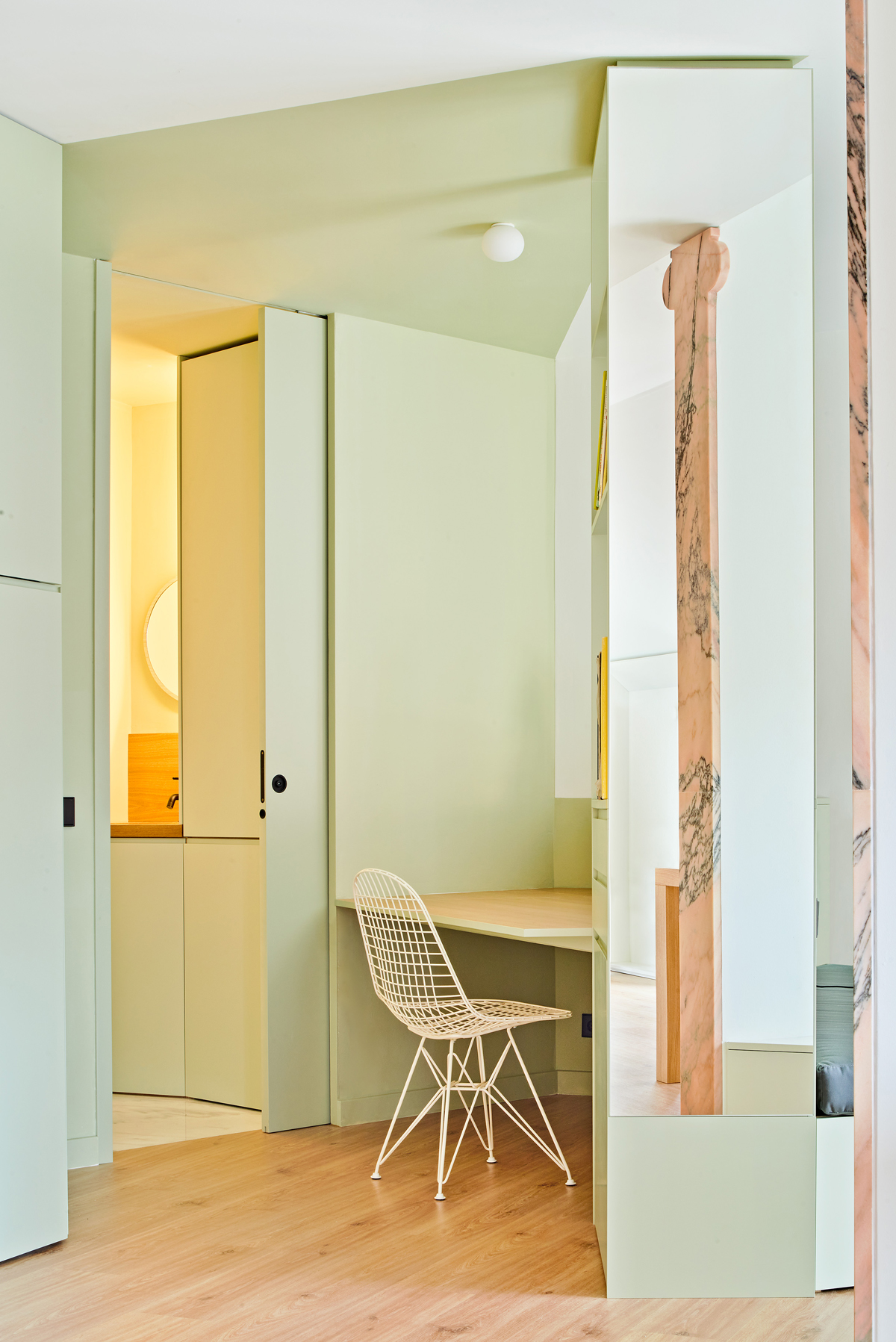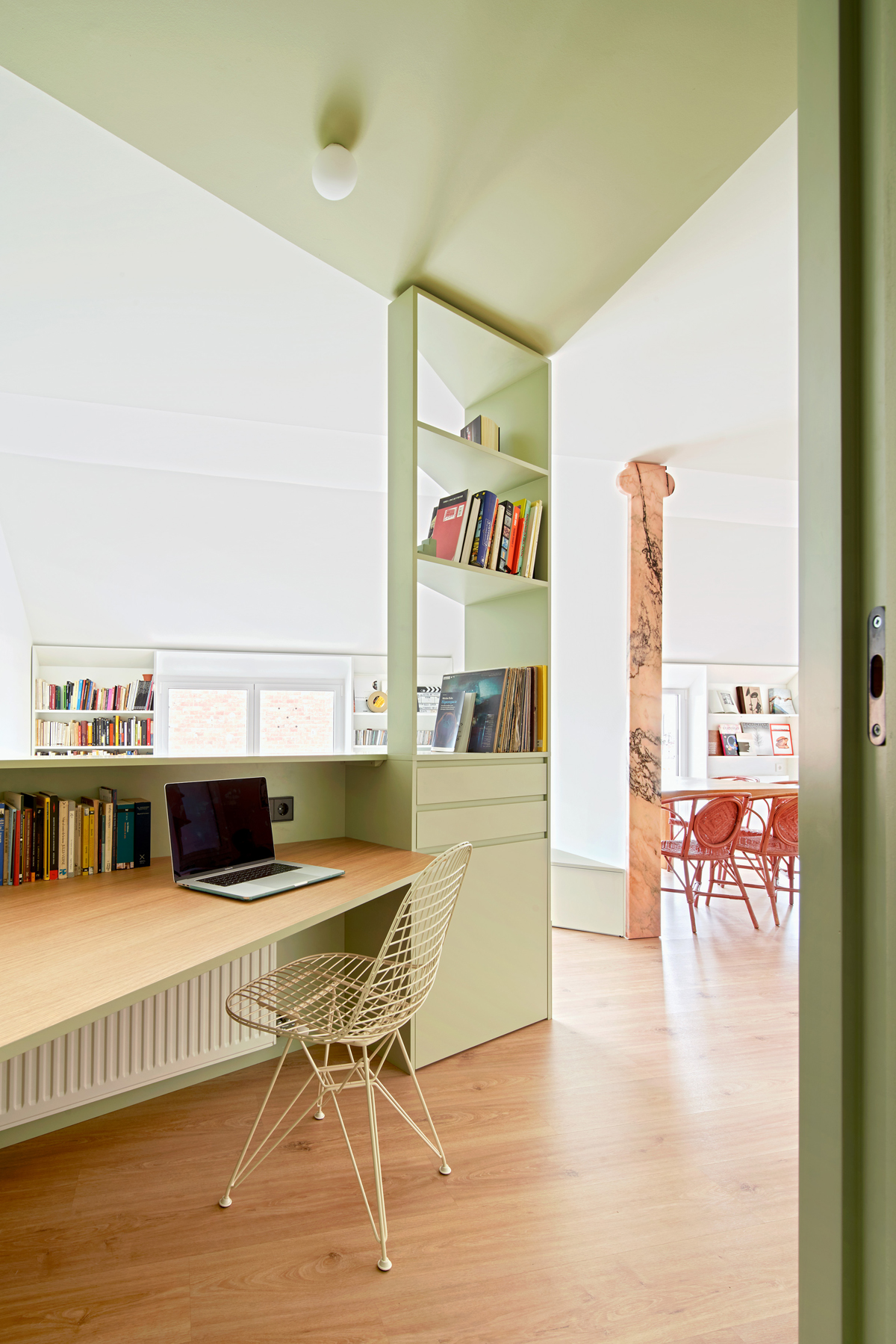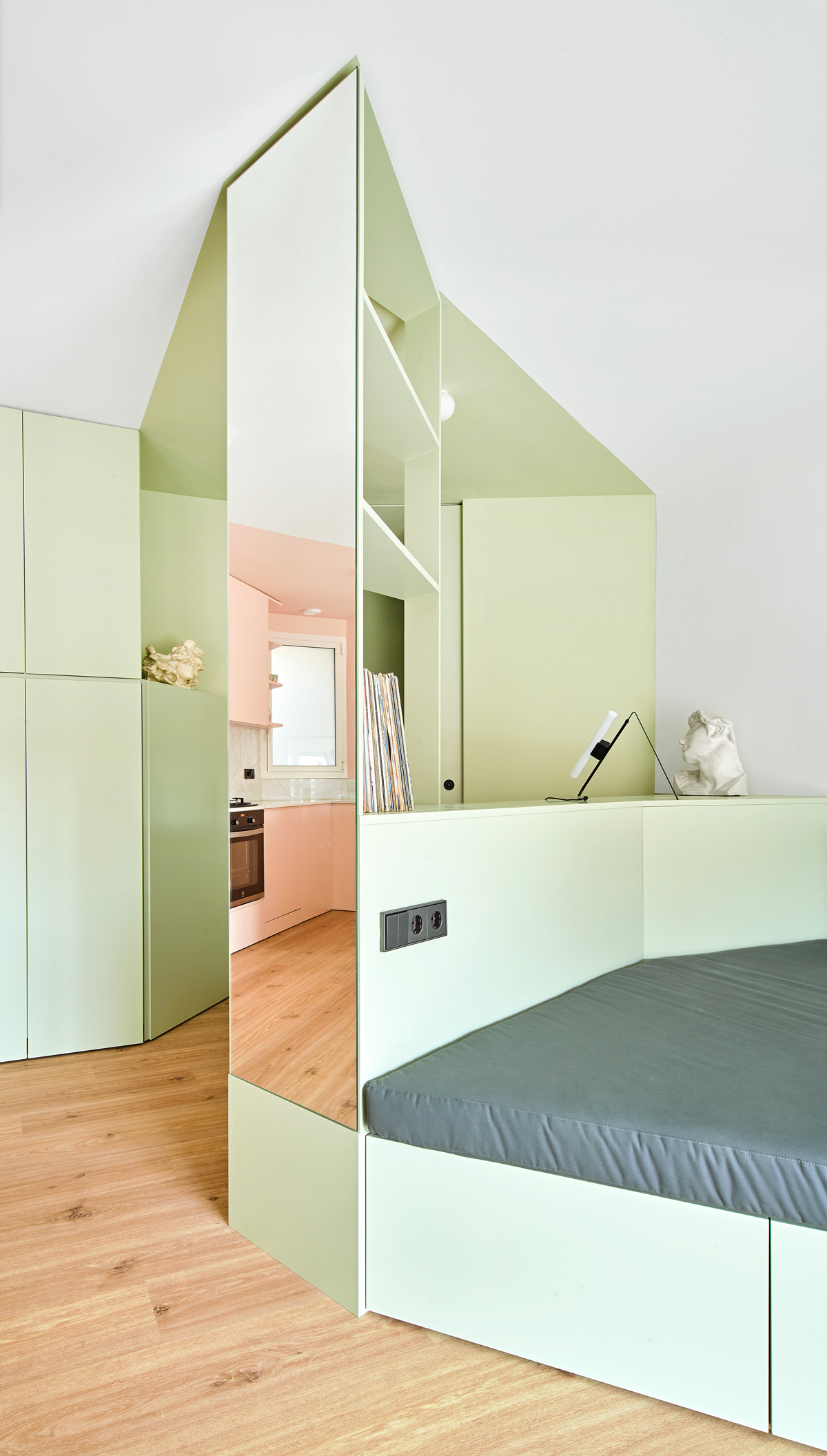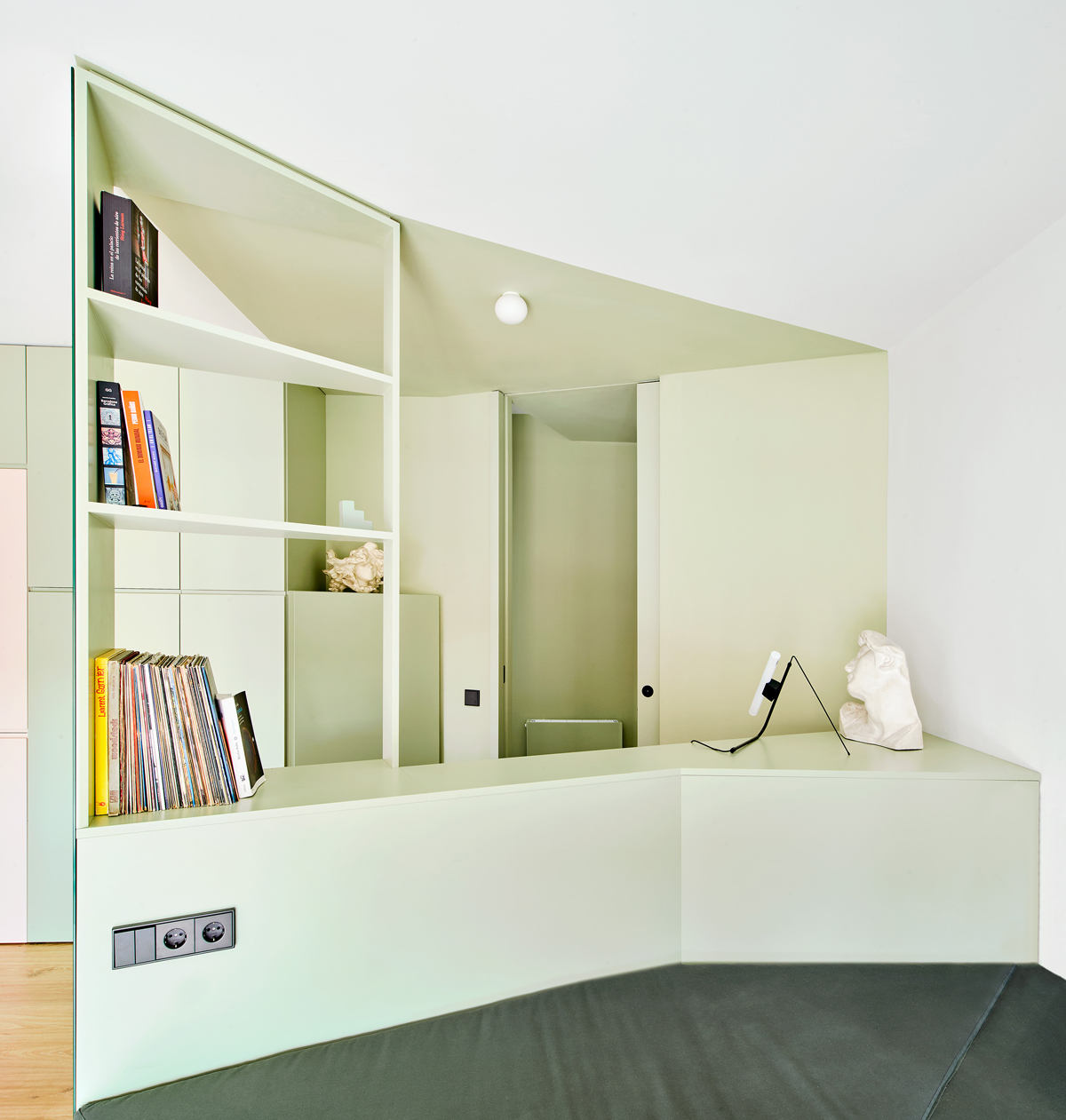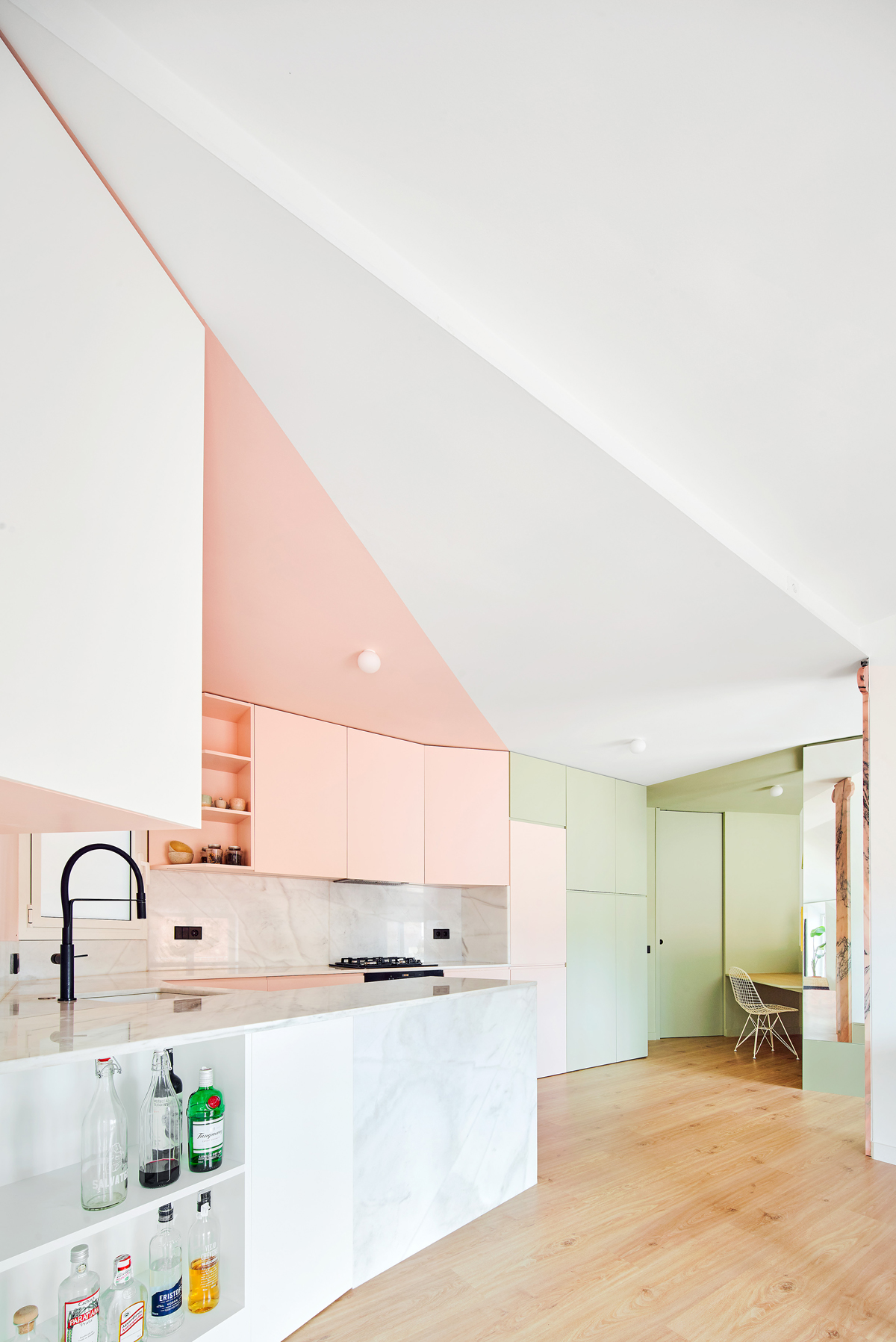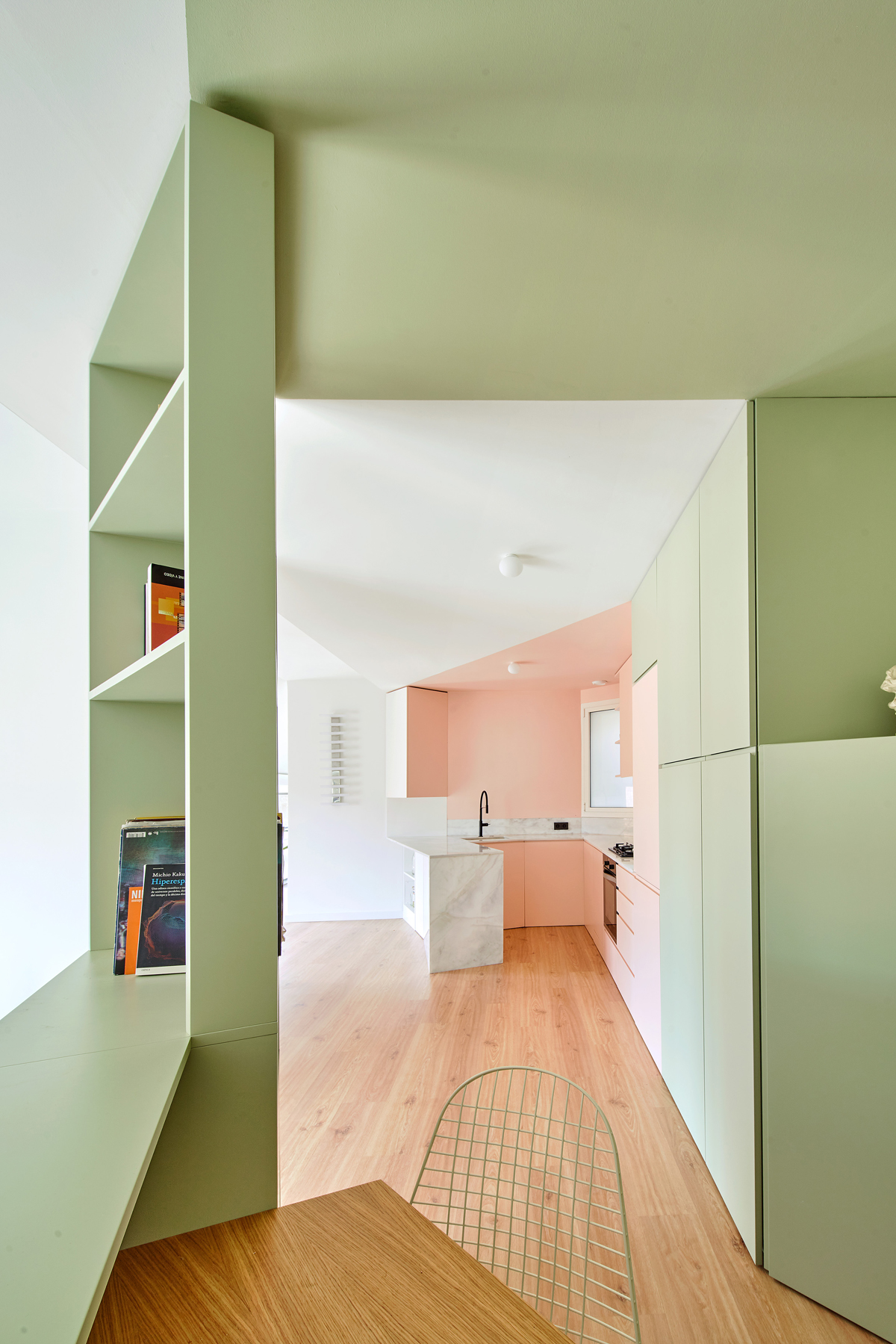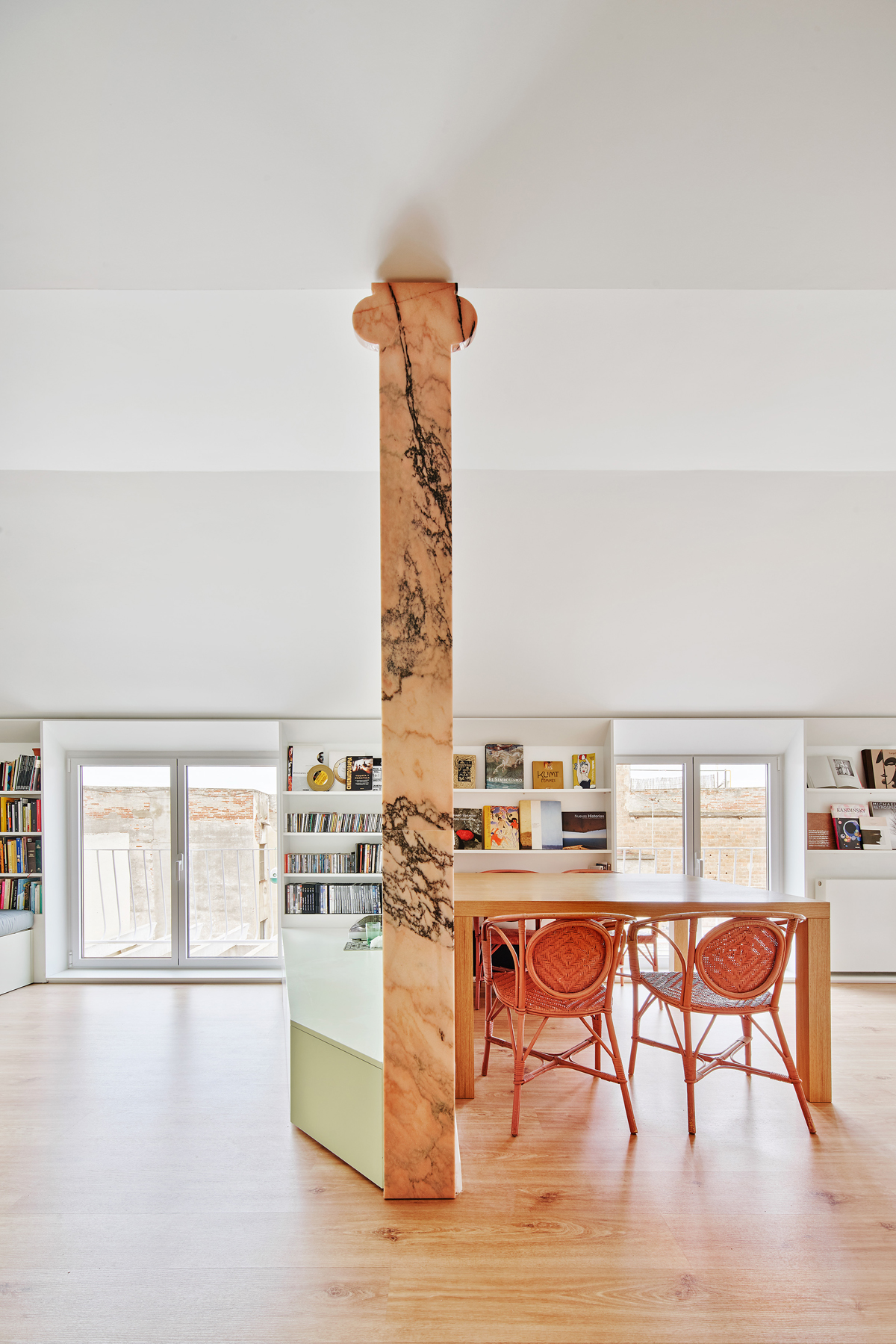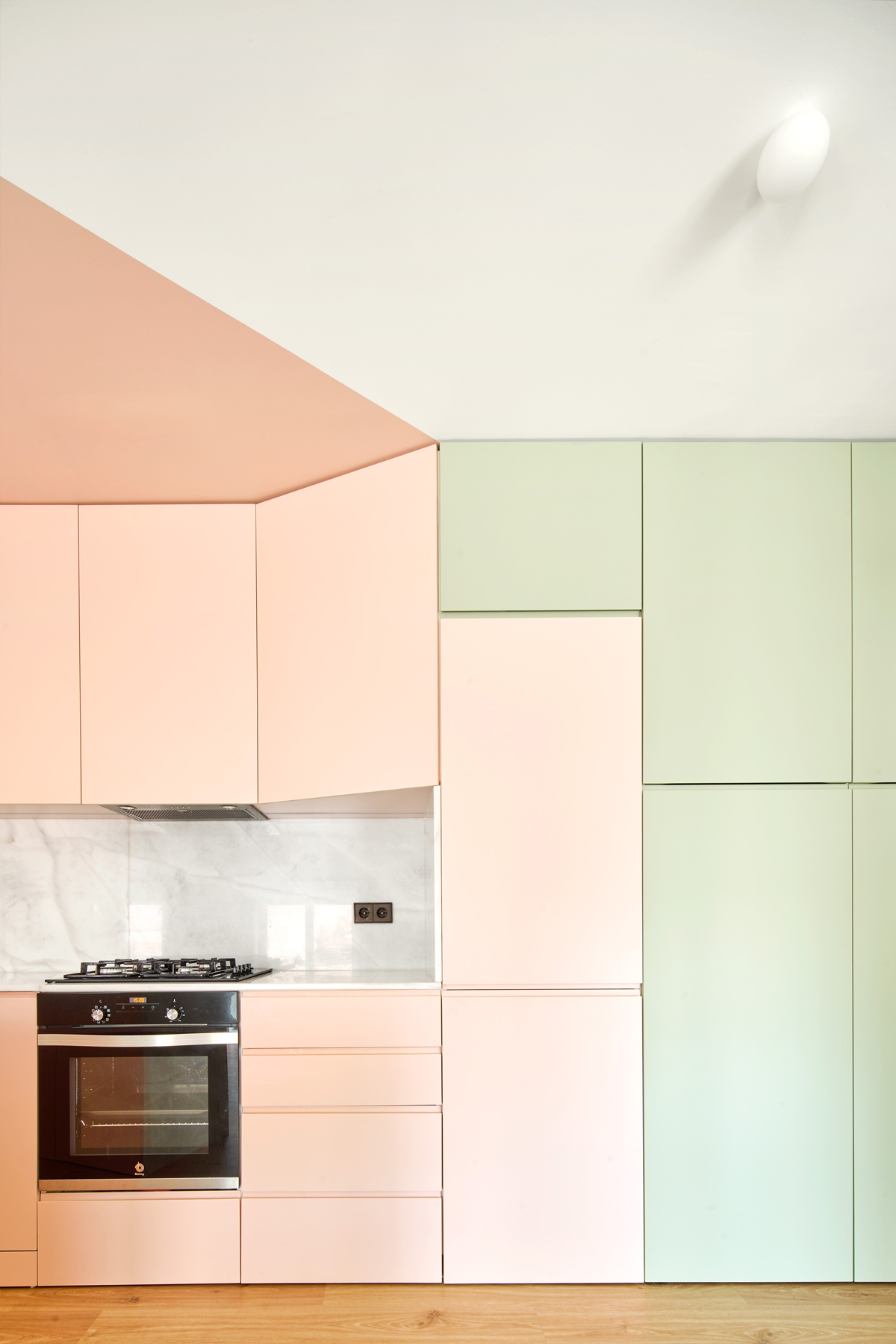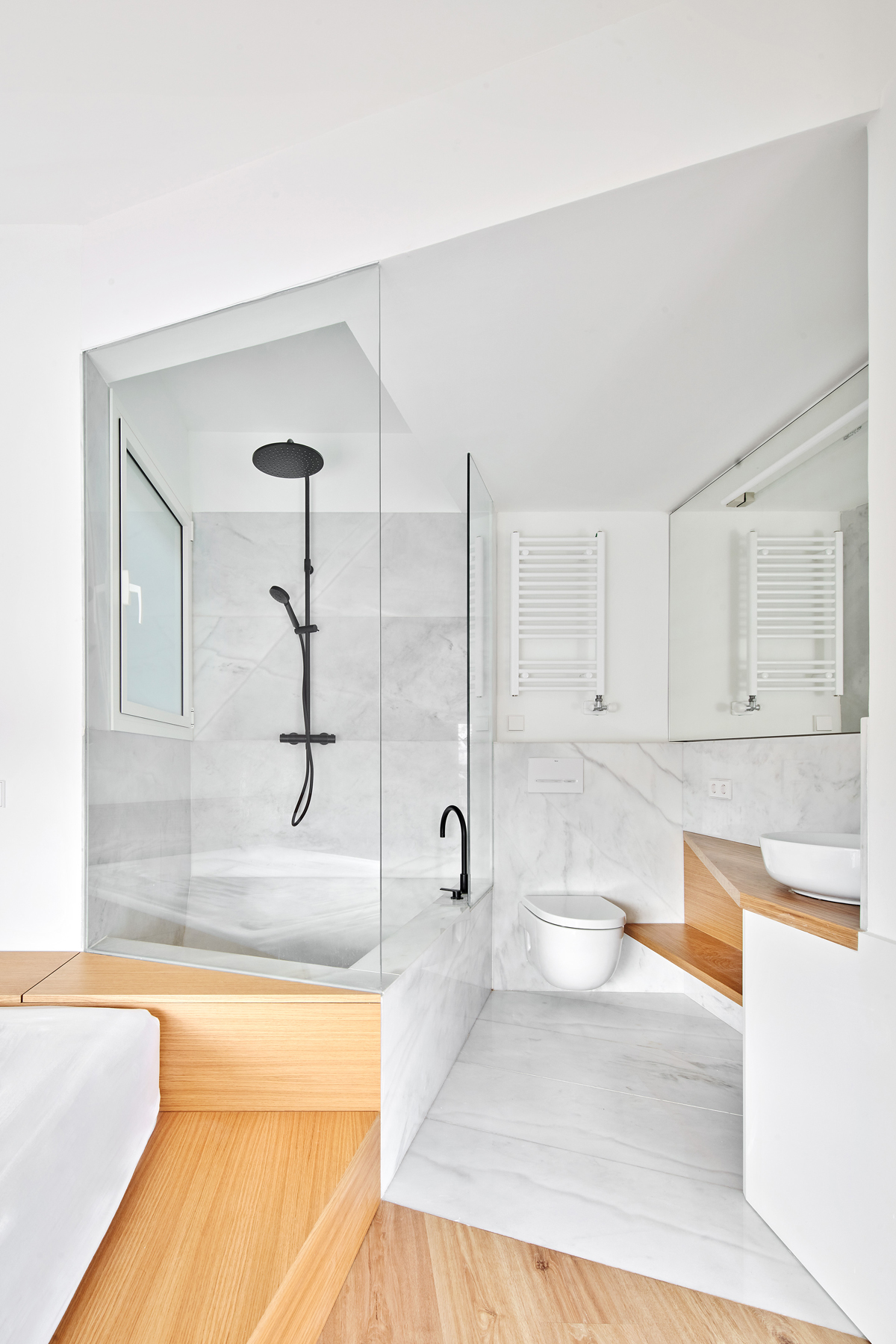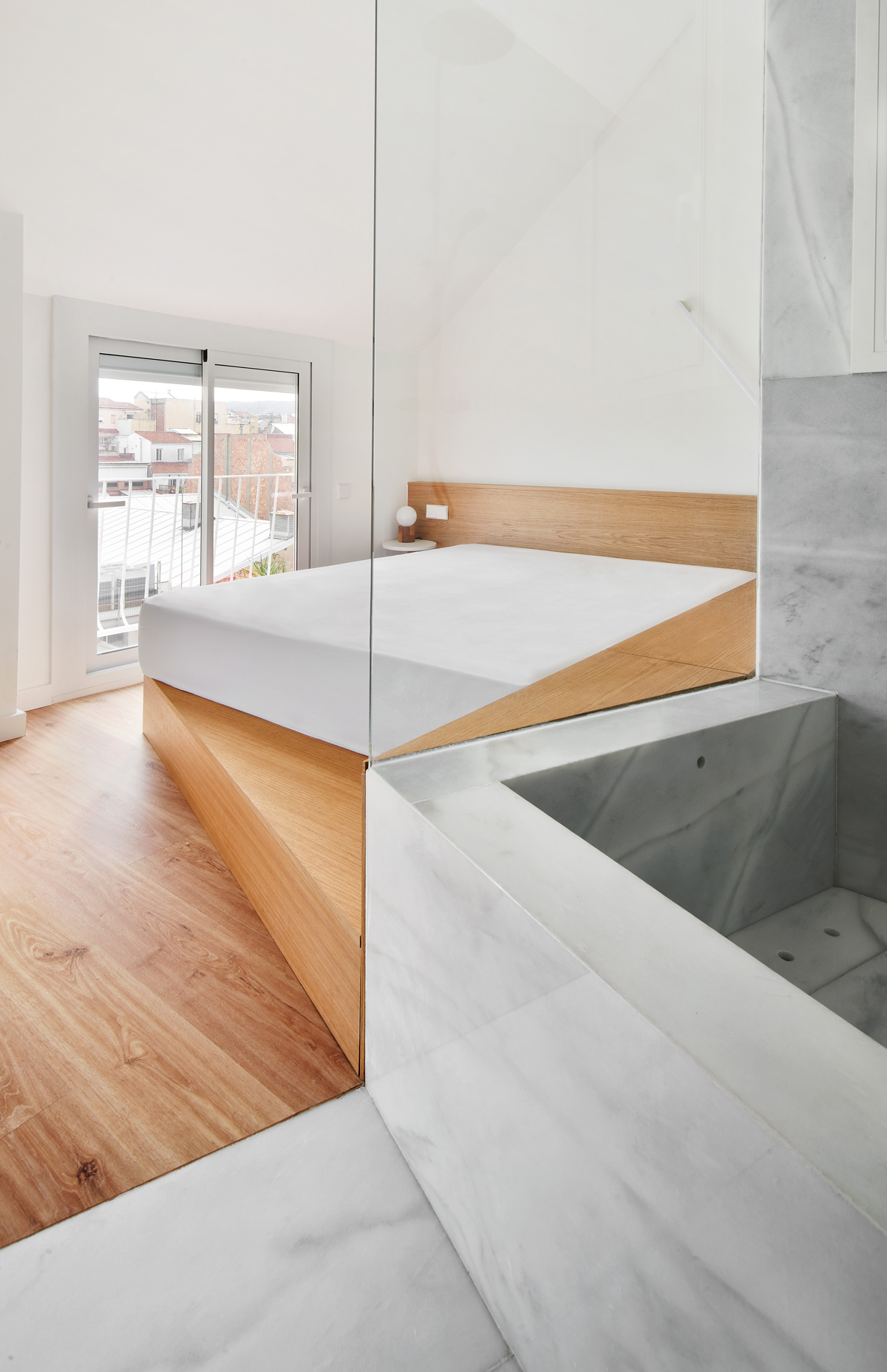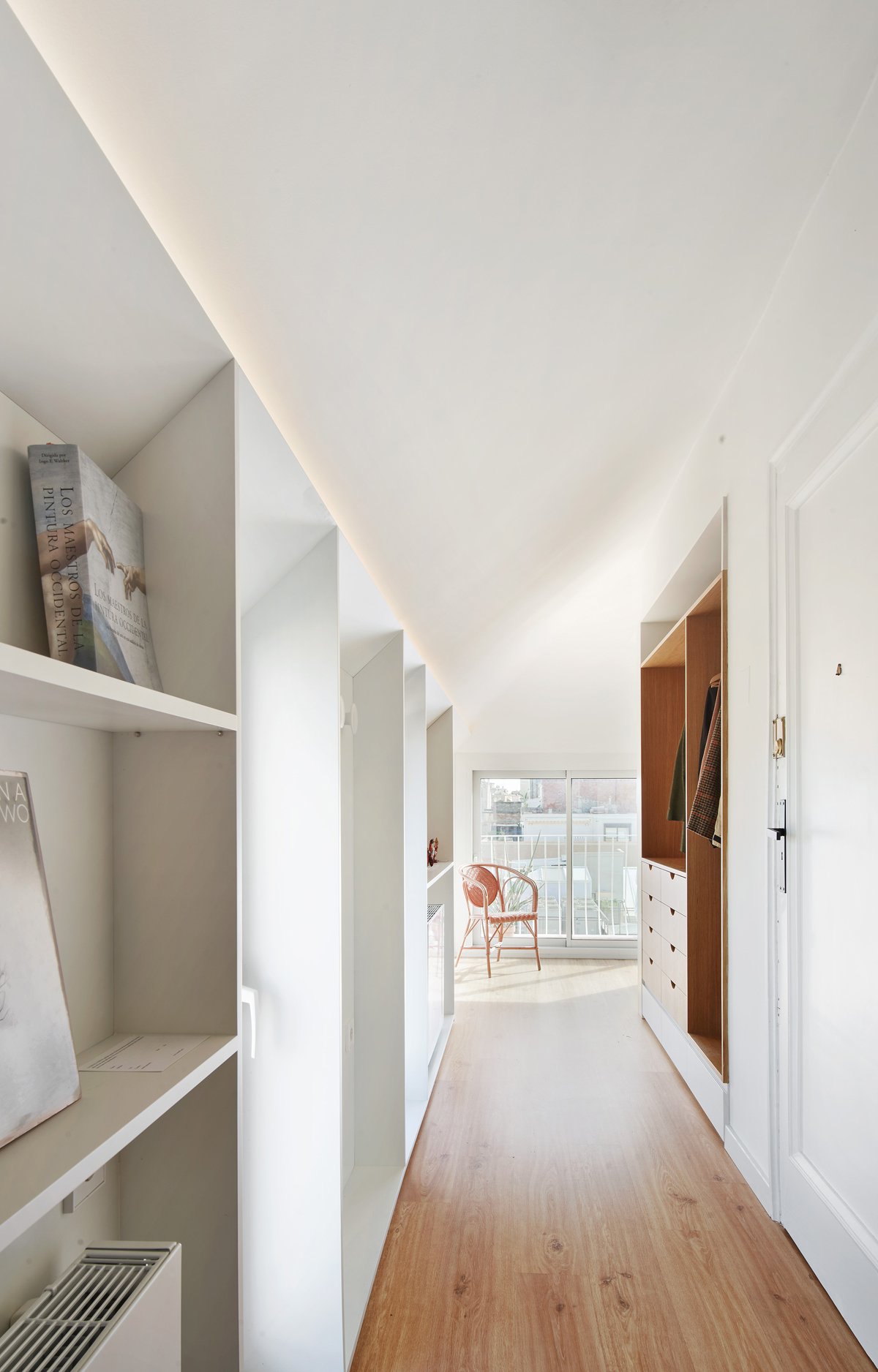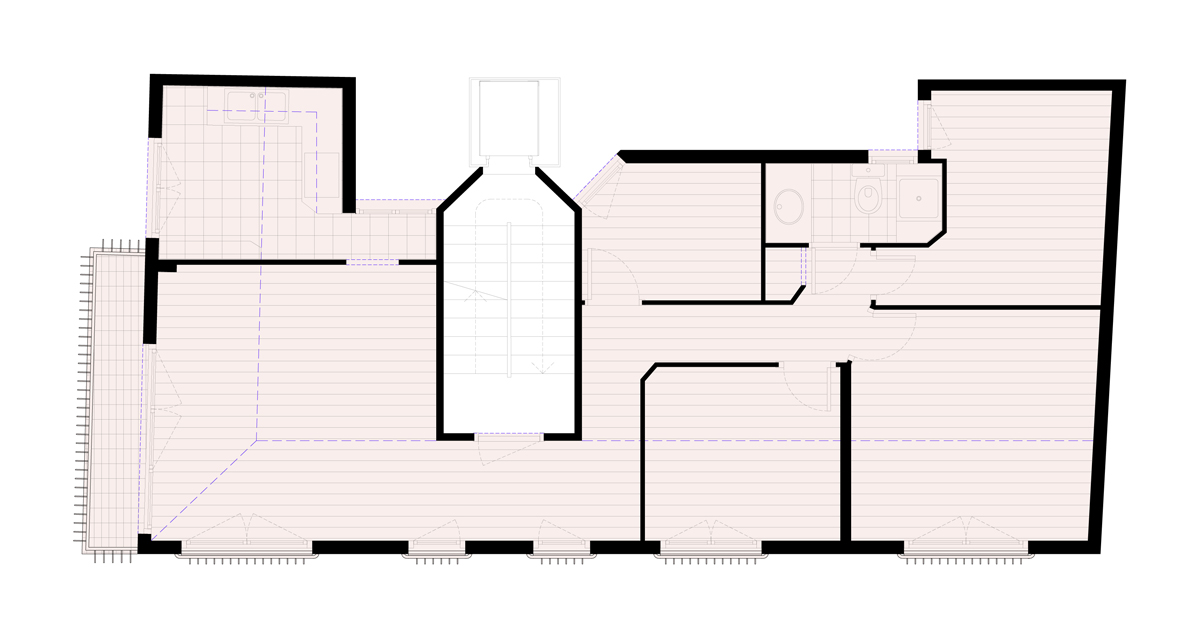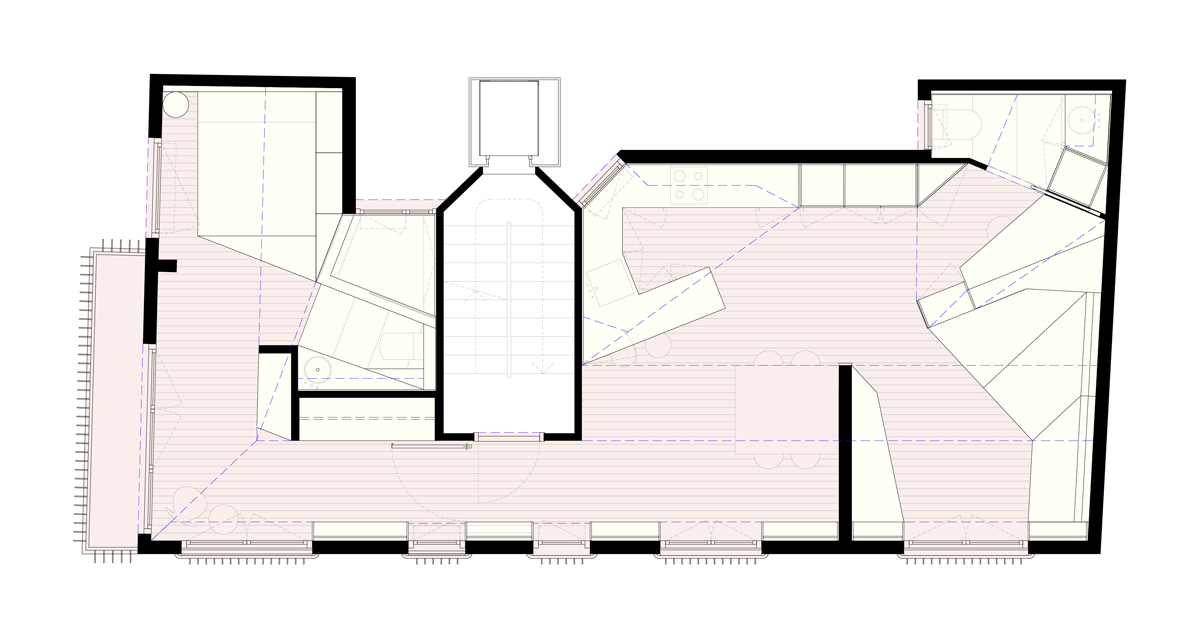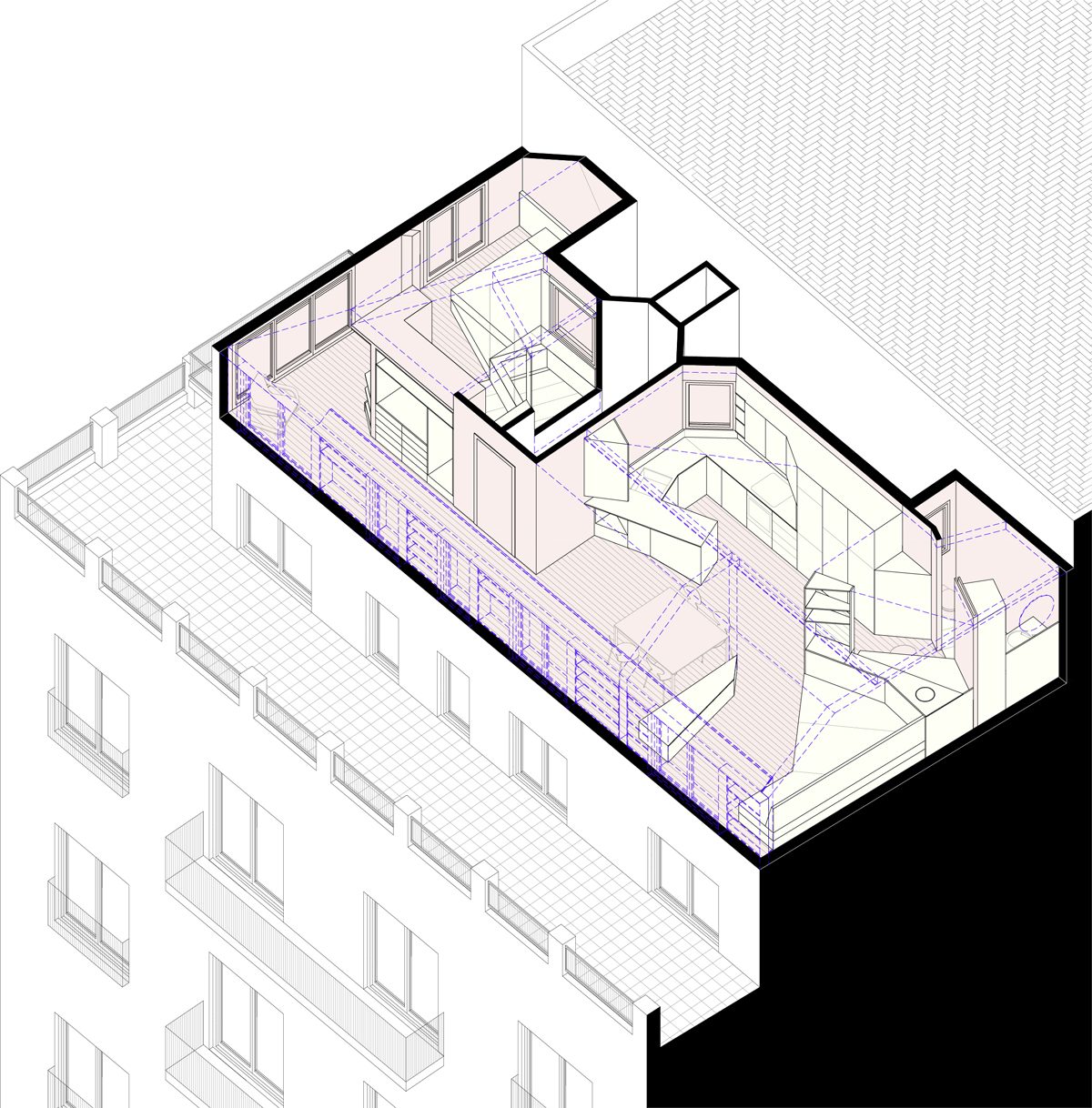 Project: 2018/2019
Construction: 2019/2020
Location: c. Providència, Barcelona
Collaborators: Inès Martinel, Ainhoa Mur
Area: 60,46 m²
Budget: 84.647,00 €