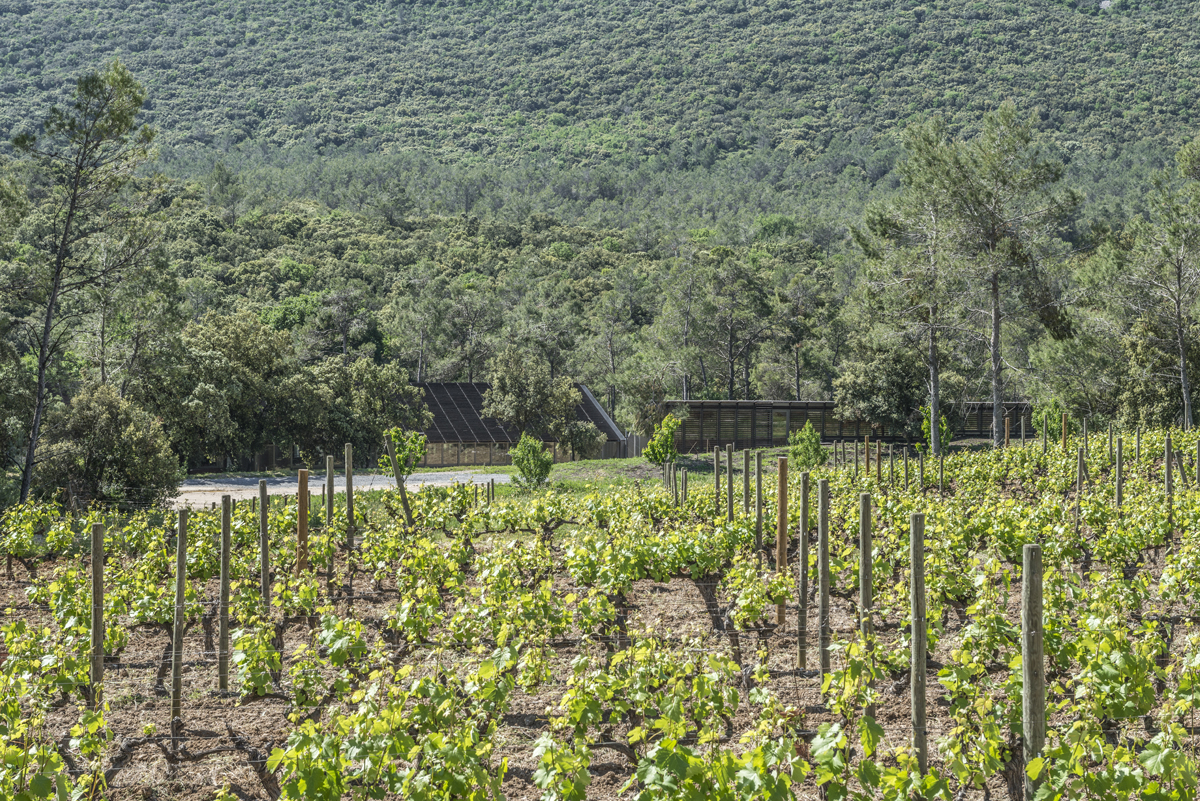 Source: Michele & Miquel
Photography: Pep SAU, Ines JUANOLA, Michèle ORLIAC y Miquel BATLLE
ES.
Un trabajo conjunto sobre paisaje, arquitectura y vino
Hace 25 años en este lugar se instaló una pequeña bodega y una vivienda construidas a partir de una estructura de madera para granja de animales.
El proyecto consiste en ampliar la bodega, construir un hangar para tractores, unas oficinas, un restaurante y una nueva vivienda a realizar en 2 tiempos. En primera fase la bodega se instala en el Hangar y en el edificio de restauración. Se prevé una estructura capaz de adaptarse a estos y otros posibles cambios de uso en el futuro.
Arquitectura, paisaje, agricultura y producción de vino se conciben como un todo en el que se busca constantemente la calidad: un enfoque único para componer un trabajo total.
¿Cómo insertar, en este sitio natural excepcional y emblemático de la región de Montpellier, una finca vinícola productiva que necesita grandes edificios agrícolas? ¿Cómo continuar la construcción existente sin añadir excesivo ruido al paisaje?
Una arquitectura velada, camuflada, invisible desde las montañas
Los nuevos edificios se afinan y se estiran para adaptarse mejor al relieve e inmiscuirse entre taludes y árboles. Con una pendiente favorable hacia el sur, se entierran al norte y se abren al sur con vistas al paisaje lejano.
Un velo de madera gris cubre fachadas y cubierta con lamas en forma triangular que son orientadas para hacer sombra en verano y dejar pasar la luz y el calor en invierno. El color y la textura de la madera de las lamas se mimetizan con la corteza de los pinos. Desde los picos del Hortus o el Pic Saint Loup la construcción es totalmente invisible.
A través de este velo, el edificio es casi transparente. La mirada lo traspasa, revelando el paisaje de norte a sur.
La repetición "al infinito" de un pórtico elemental construye todos los edificios
El mínimo denominador común de los edificios es un pórtico de madera microlaminada formado por 2 pilares de 300x39mm, separados 720cm y unidos por una viga inclinada de la misma medida.
A partir de esta geometría prestada de la construcción existente, el pórtico es replicado cada 1050mm que, junto con los elementos de la cubierta y el cerramiento, constituye el kit básico de la construcción y establece un sistema que atraviesa usos y paisajes.
La estructura de los pórticos es soporte de todo lo que necesita ser aguantado: forjados, cubierta, escaleras, cerramientos, carpintería, puertas, estanterías, brise-solei …
Para evitar el recalentamiento arquitectónico el detalle desaparece. No es que no exista, simplemente está pensado para no ser visto.
A contrapié de las bodegas "anuncio" que contradicen la siempre buscada relación del vino con su paisaje, aquí la repetición, uniformidad, mimetismo o invisibilidad, son estrategias con las que se ha intentado "borrar" la arquitectura.
Casi, al final, lo que queda de ella es la estructura, desnuda, y el paisaje.
EN.
A joint effort on landscape, architecture, and wine
25 years ago was placed, on this site, a little winery and a house built from the wood structure for animals farm.
The project aim is to extend the winery, build a hangar to park the trucks, offices, a restaurant and a new housing building in two phases. During the first phase, the winery will be located within the hangar and the catering building. The plan is to create a structure that is able to adapt itself to these and other possible upcoming changes.
Architecture, landscape, agriculture and wine production are perceived as a whole that is in constant search for quality: a unique approach where all fits together.
How to introduce in such a natural and emblematic region as Montpellier, a winemaking that needs large far buildings? How to continue the existing building construction without making an impact in the local landscape?
A latent architecture, hidden and invisible from the mountain's view
The new buildings are tuned and they stretched themselves to fit better into the relief, between slopes, and trees.
With a south facing fair pending the buildings are buried in the north and open to the south and the landscape views.
A gray wooden veil covers the façade and deck using triangular shape slats that are positioned to provide shadow during summer and allows the light and the heat to pass in winter. The color and the texture of the wooden slats seems like the pine bark. From the top of Hortus or the Pic Sant Loup, the construction is totally invisible.
Though this wood veil, the building seems to be transparent. The look goes beyond, uncovering the landscape from north to south.
An elementary pórtico is repeated to "infinity" to develop all the buildings
A mínimum common denominator of the building is a portico made of microlaminated wood composed of 2 pillars of 300x39mm, split by 720cm and joined by a beam sloped with same proportions. From this geometry extracted from the existing construction, the portico is replicated in 1050mm. Together with the deck, and the enclosure, constitutes the construction "elemental kit" and establish a system that passes through landscapes and uses.
The portico's structure is the main support that holds: forget, deck, stairs, enclosures, windows, doors, selves, brise-soleii…
To avoid the architectural overheating, the detail disappears. It does not mean that does not exist, it means that it was thought to avoid being seen.
In constrast with the "call wineries" that contradict the relationship of wine eith its landscape, concepts like repetition, uniformity, mimicry or invisibility, are strategies used to "erase" the architecture. In the end, what lasts is the naked structure and the landscape.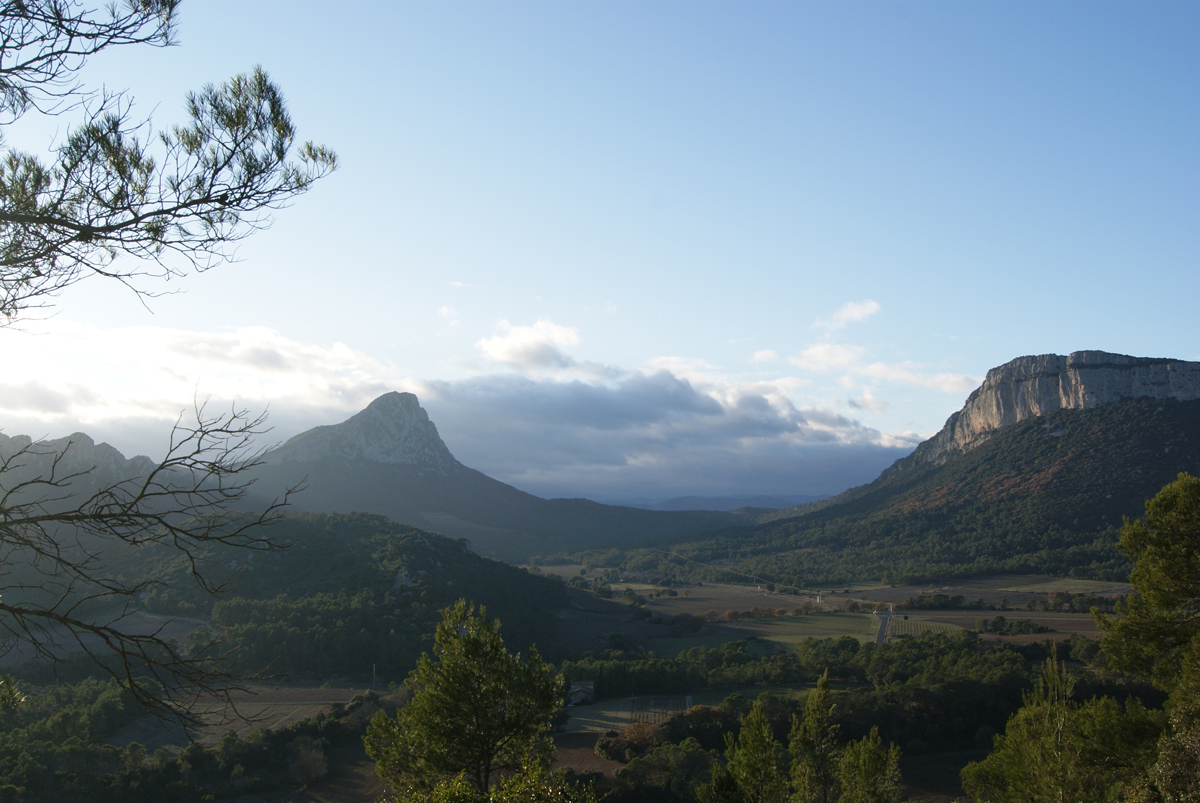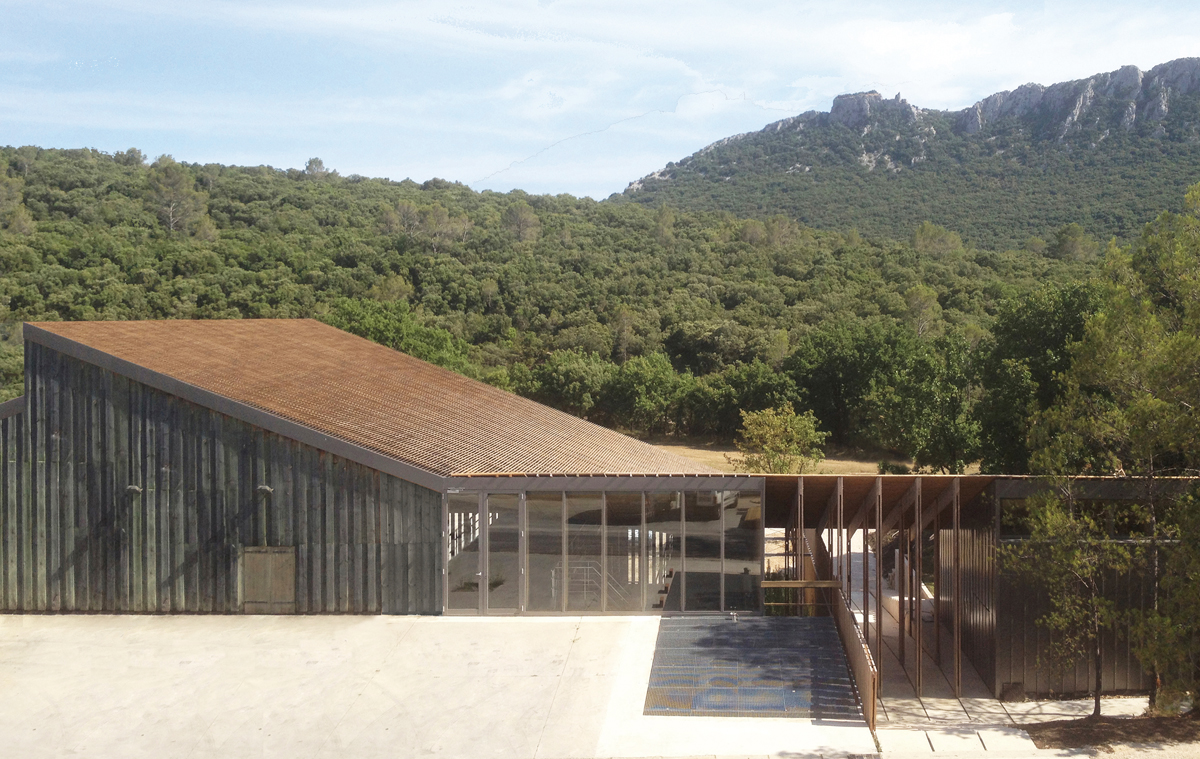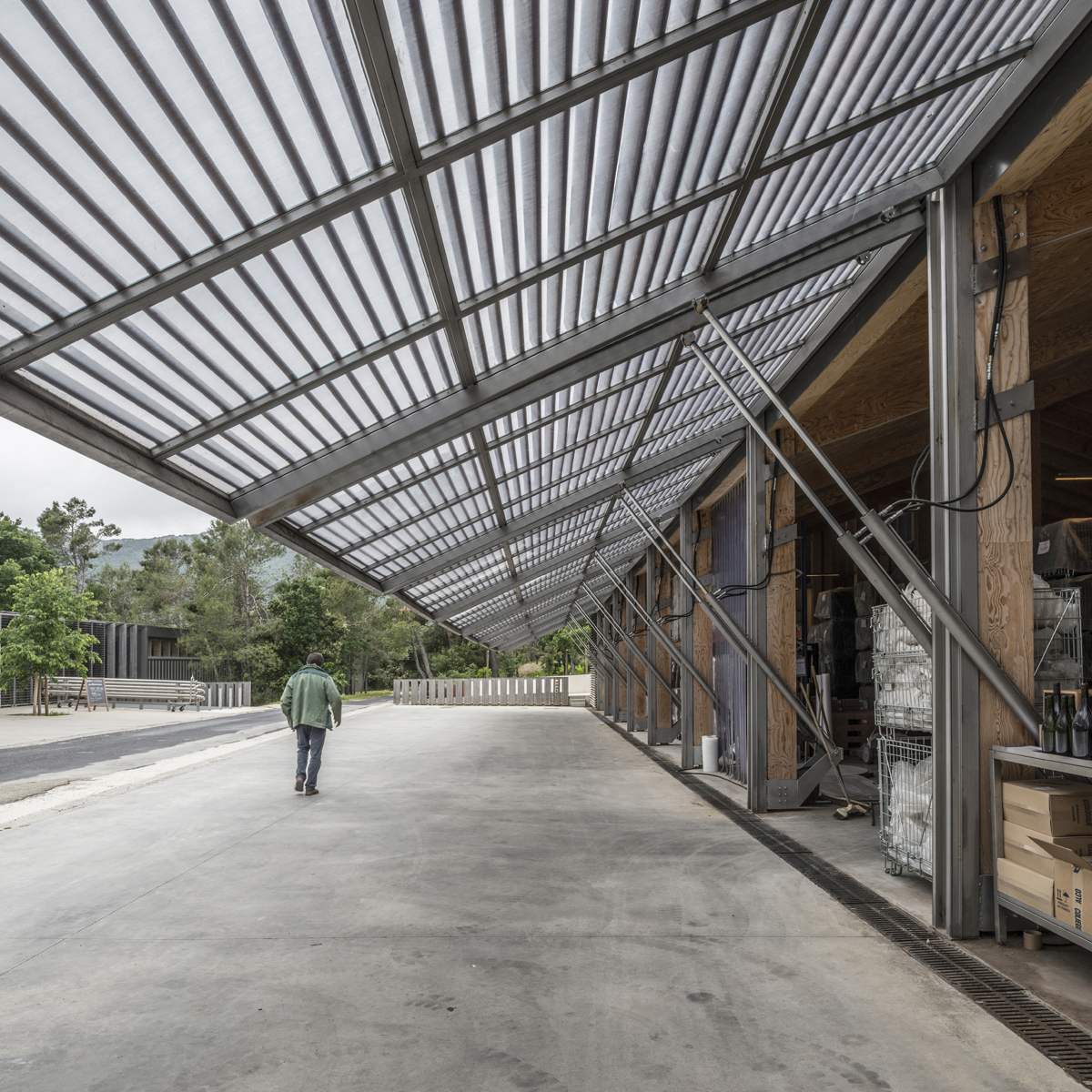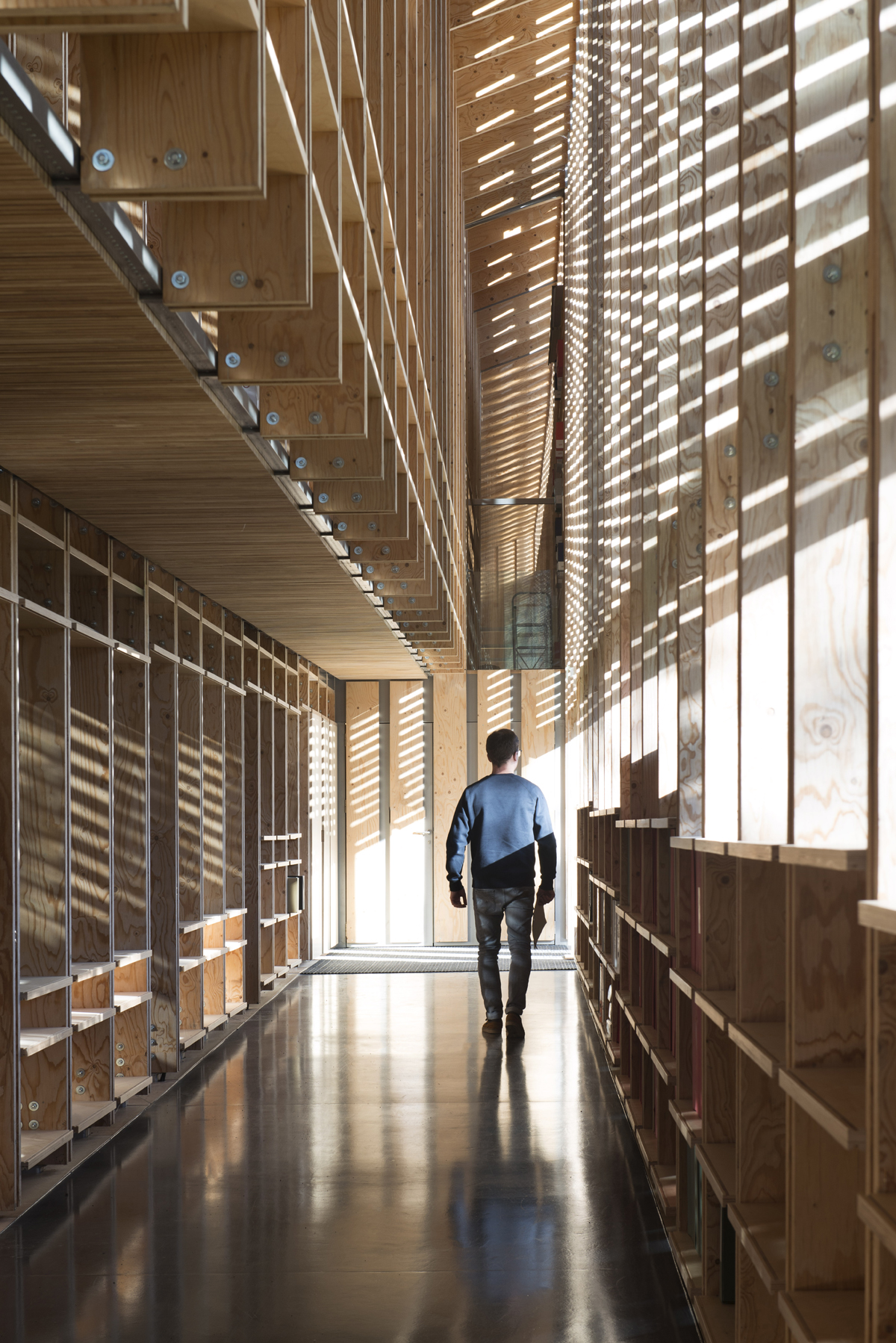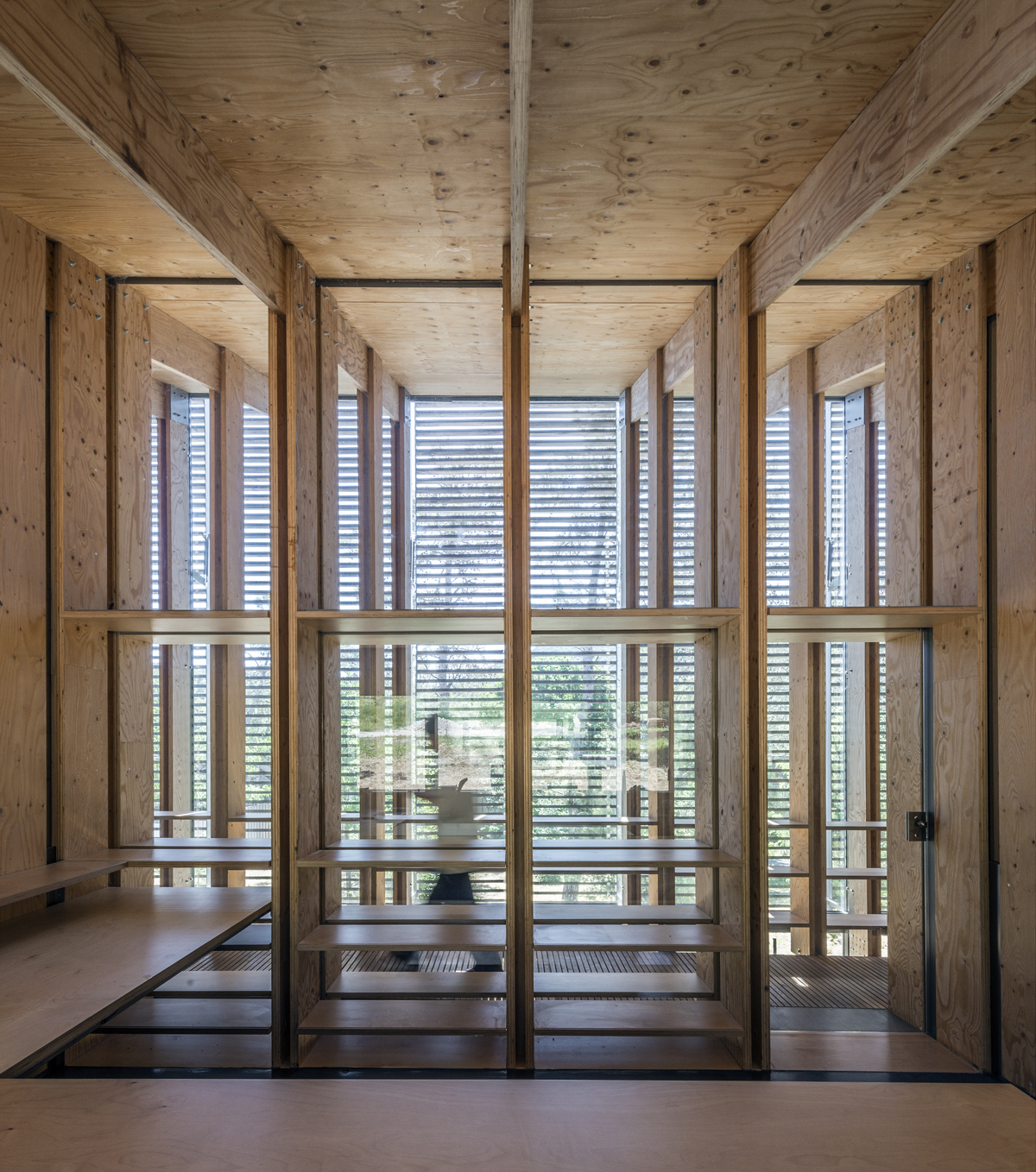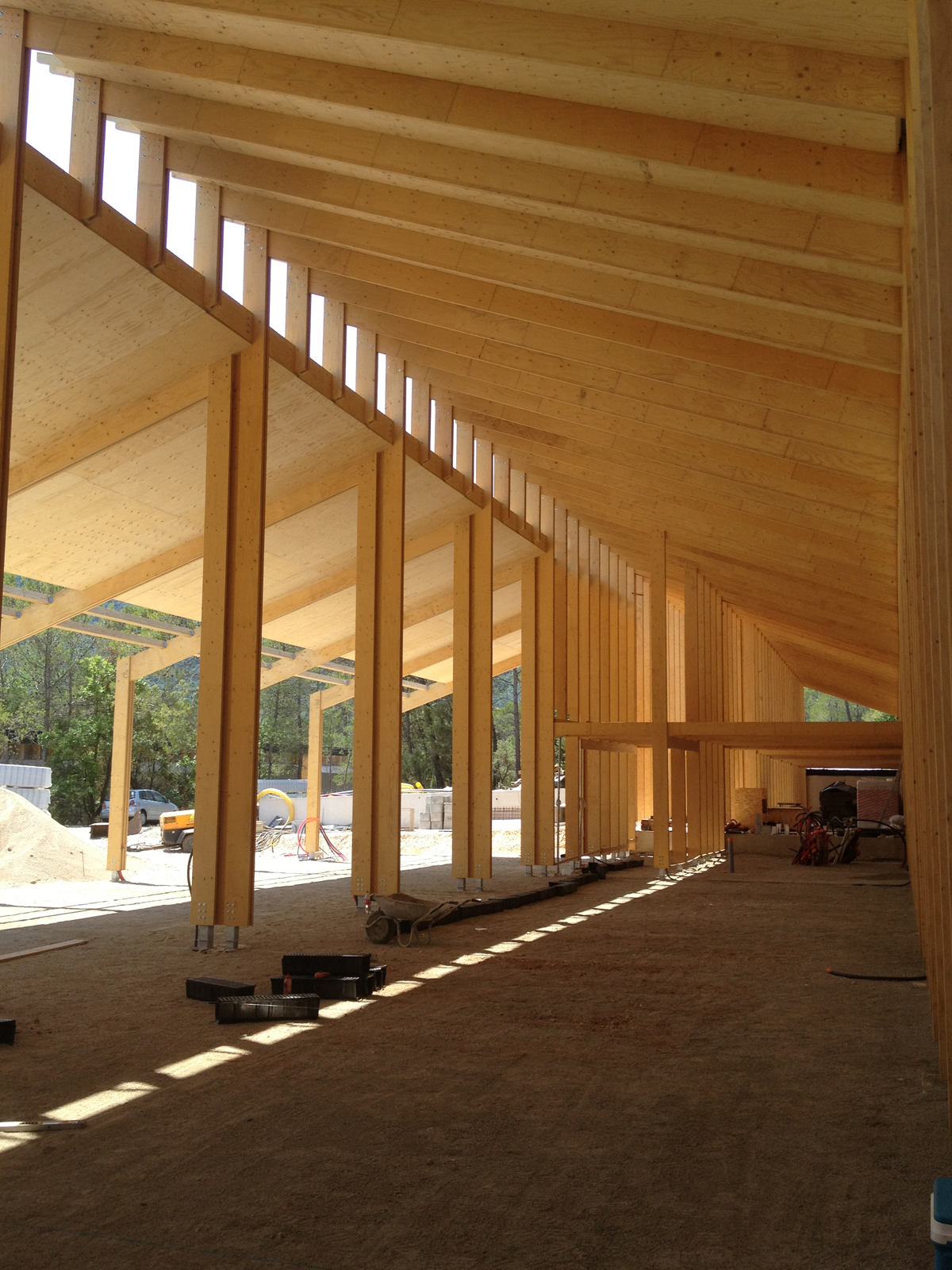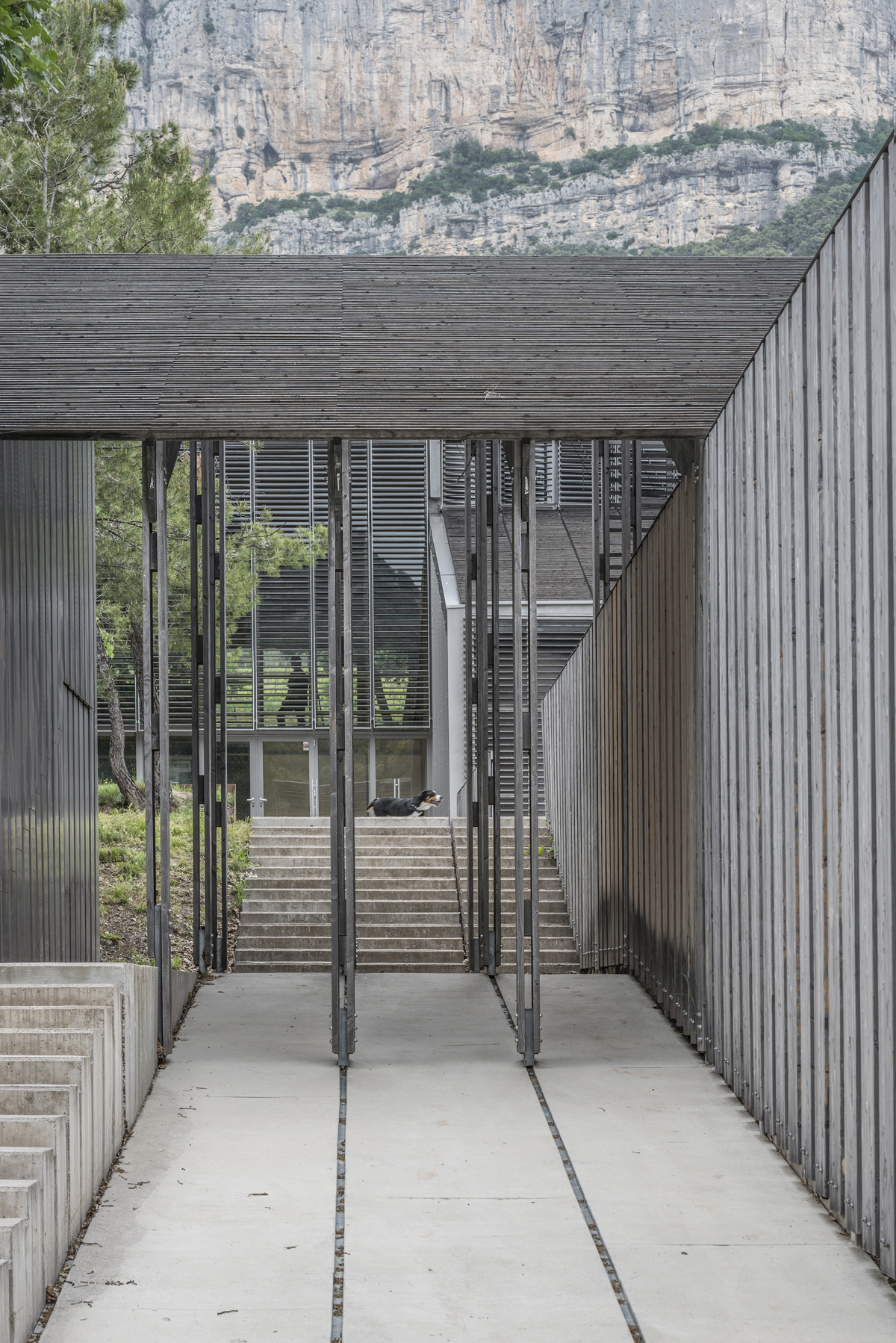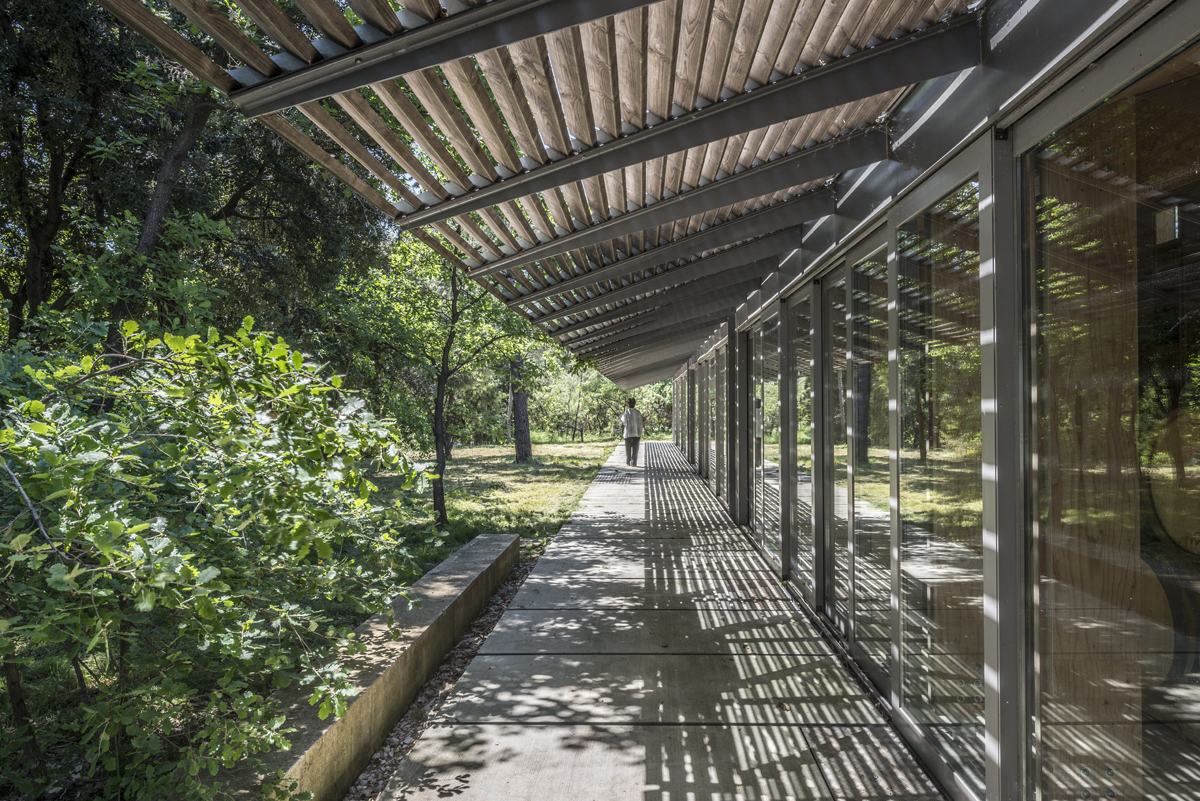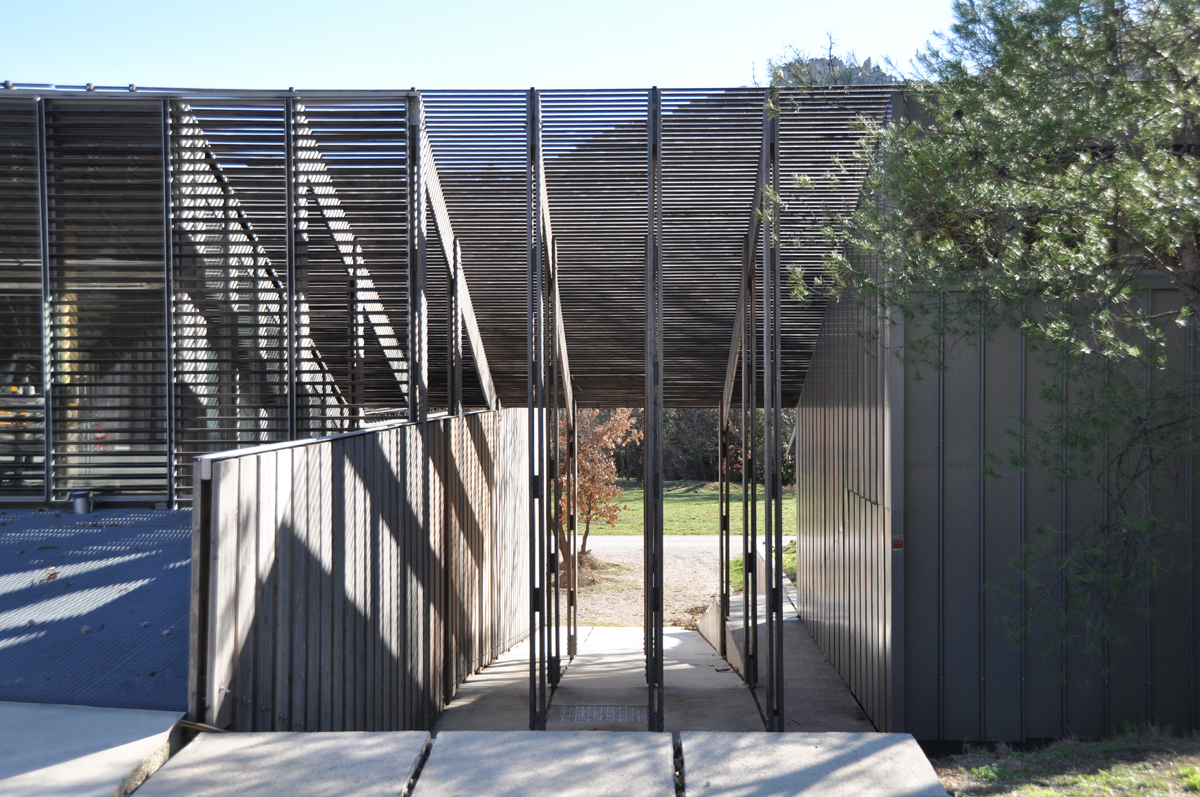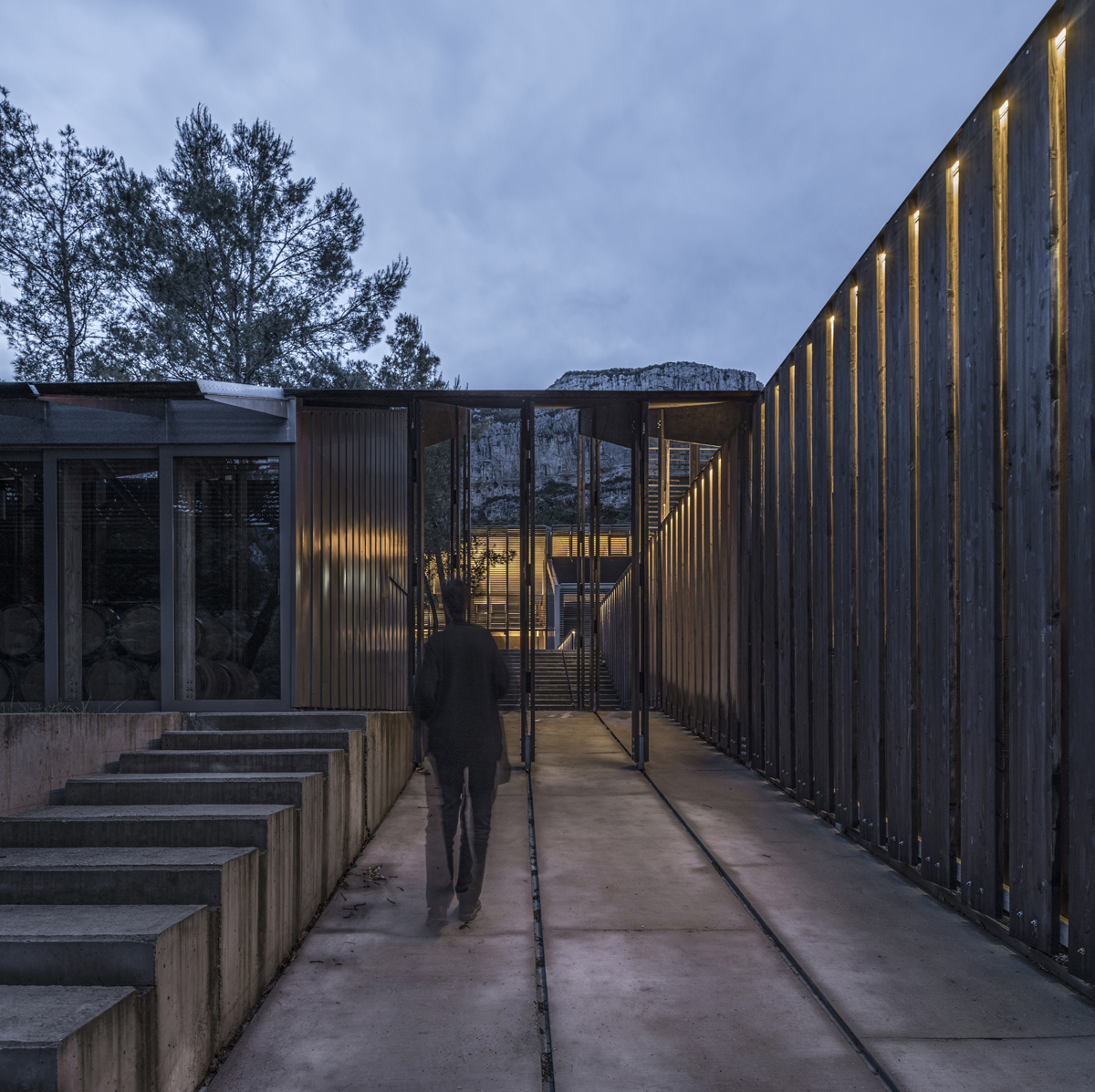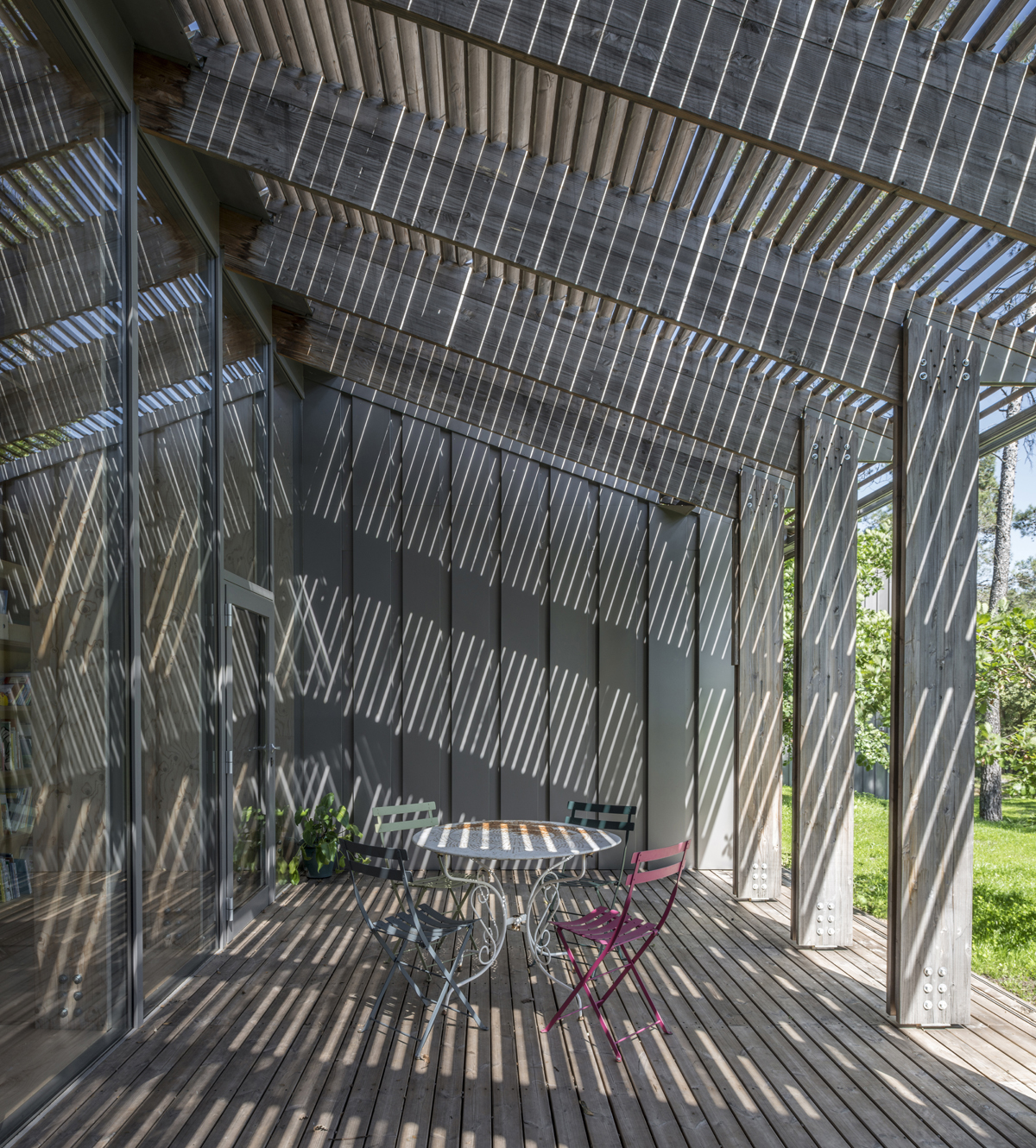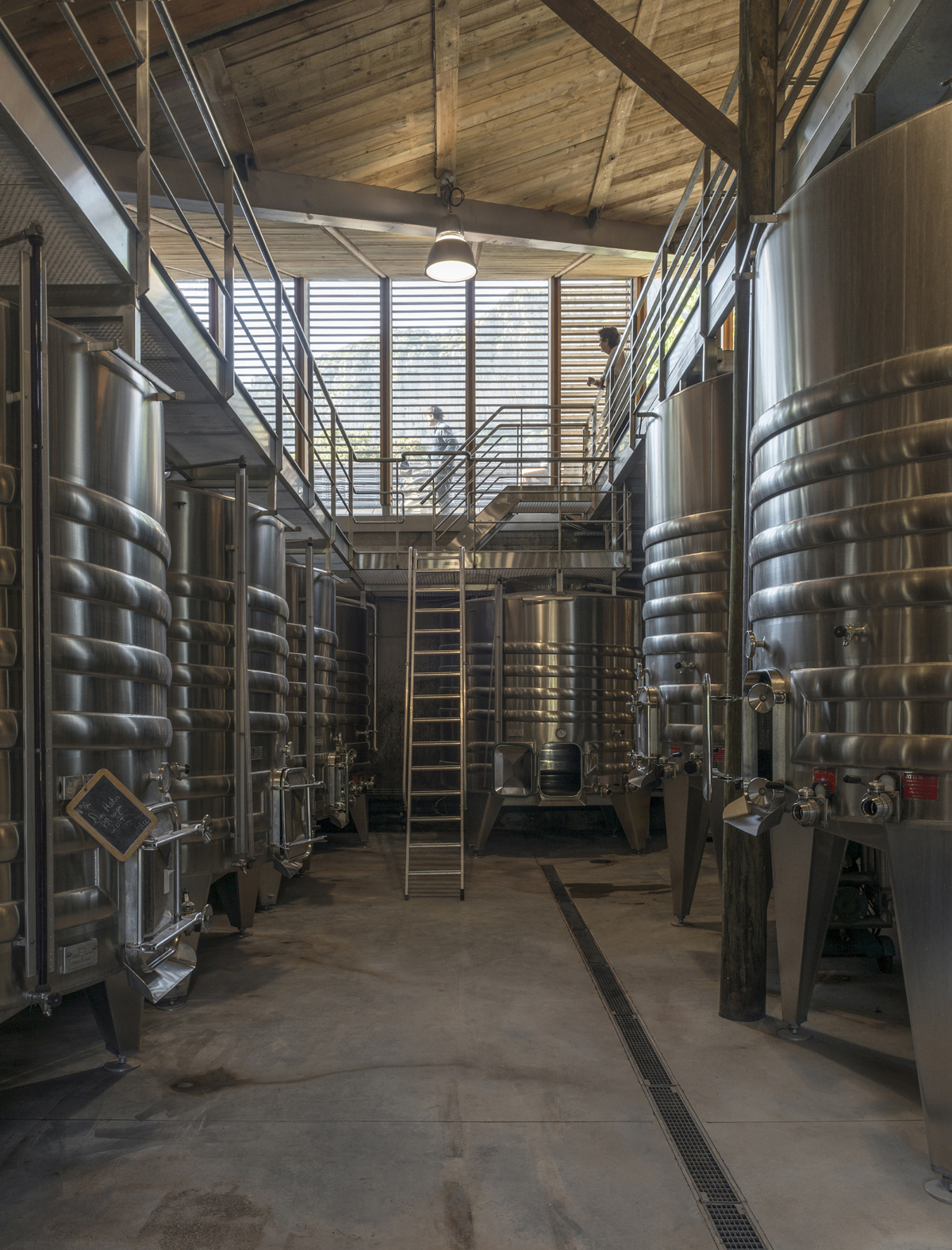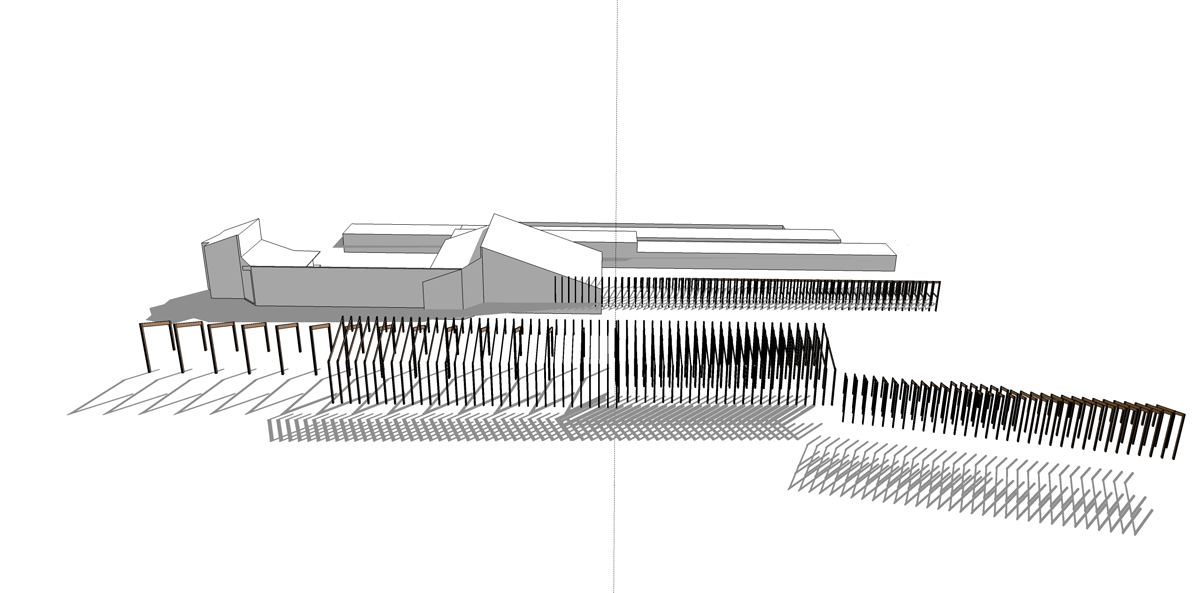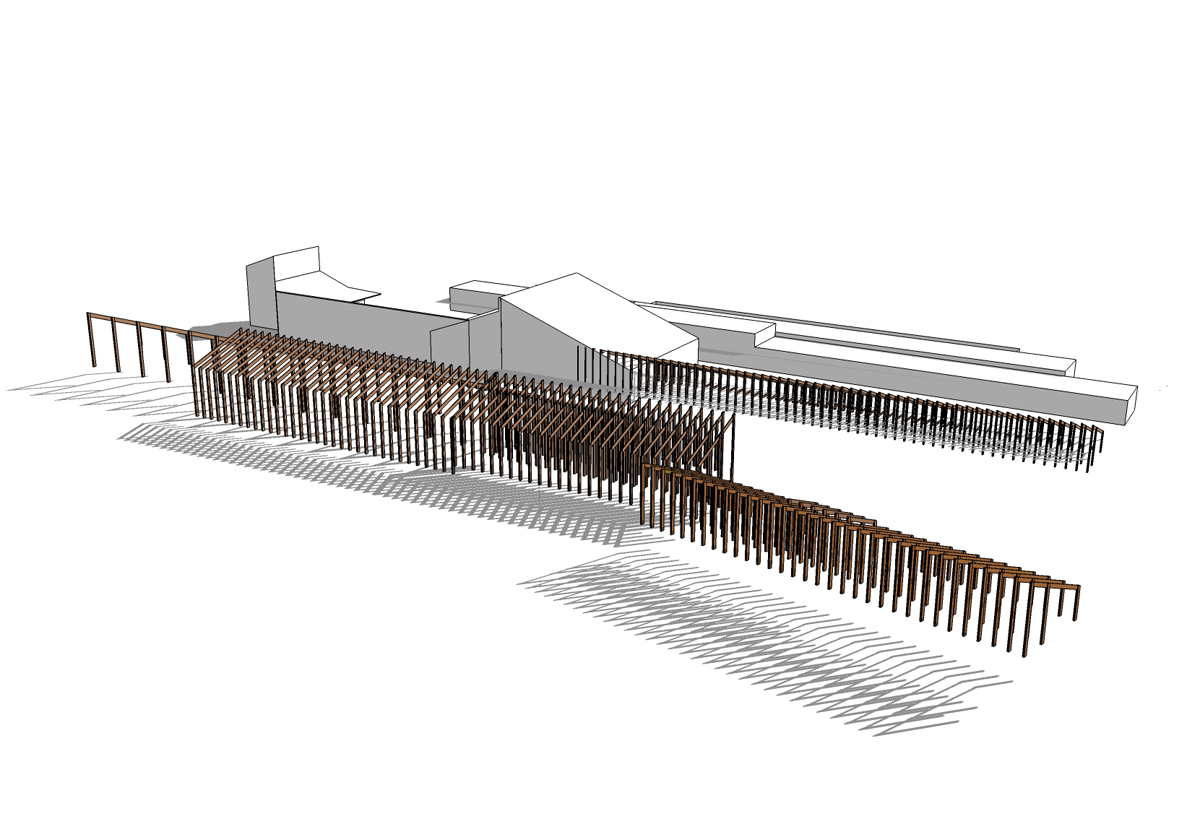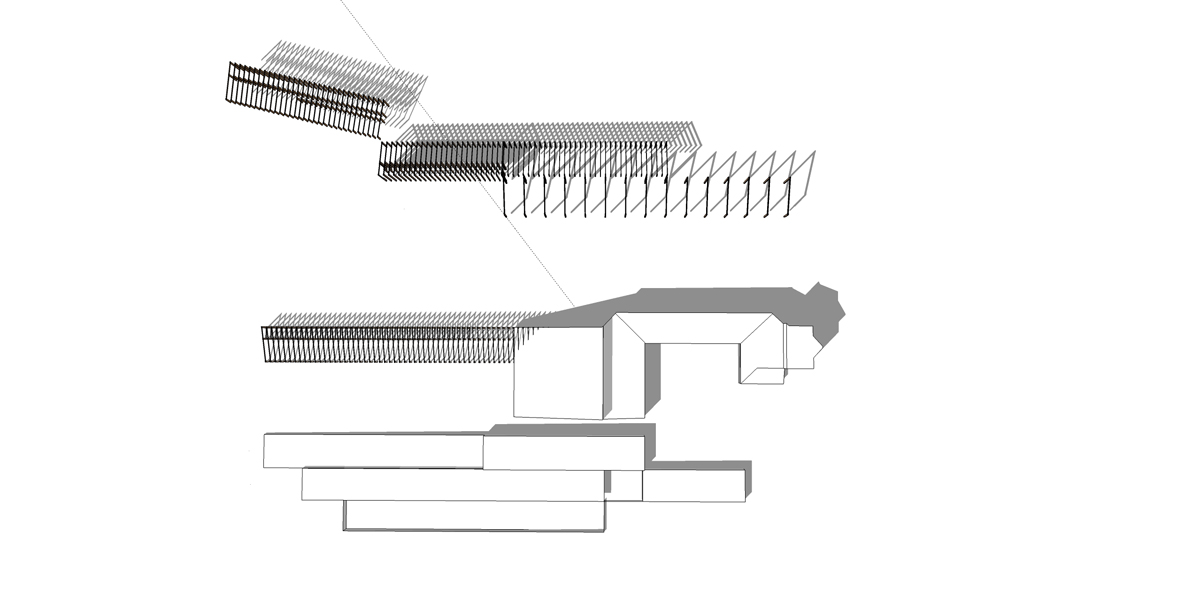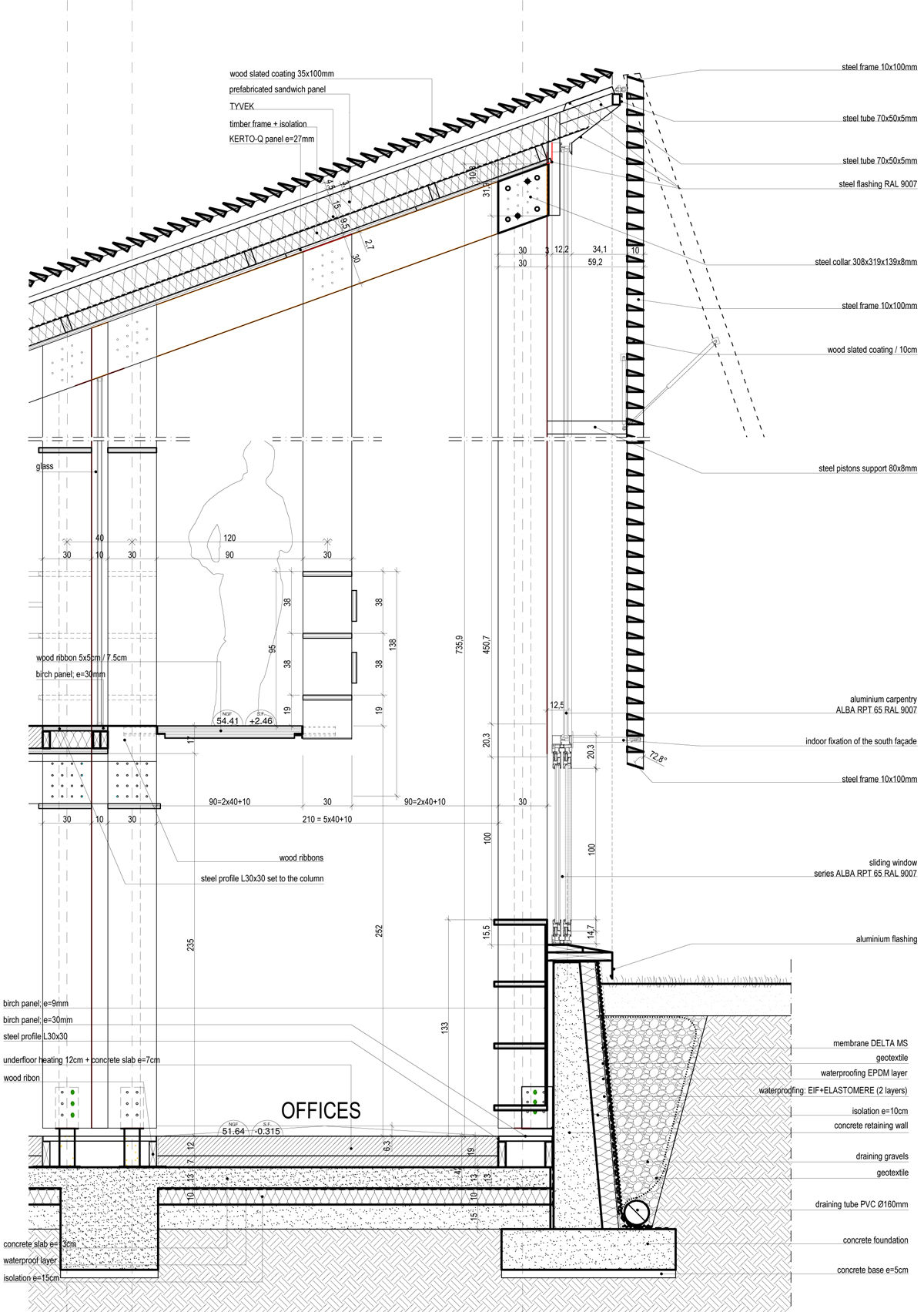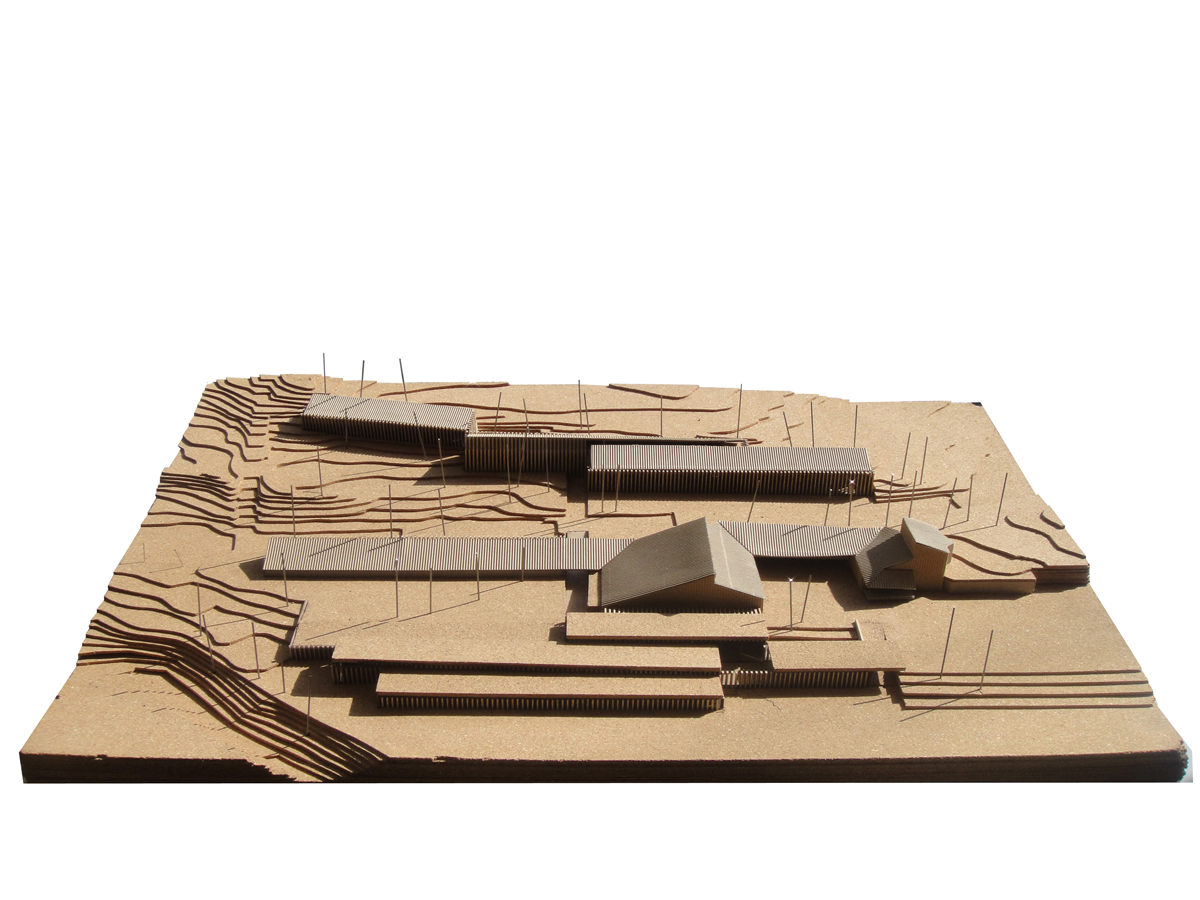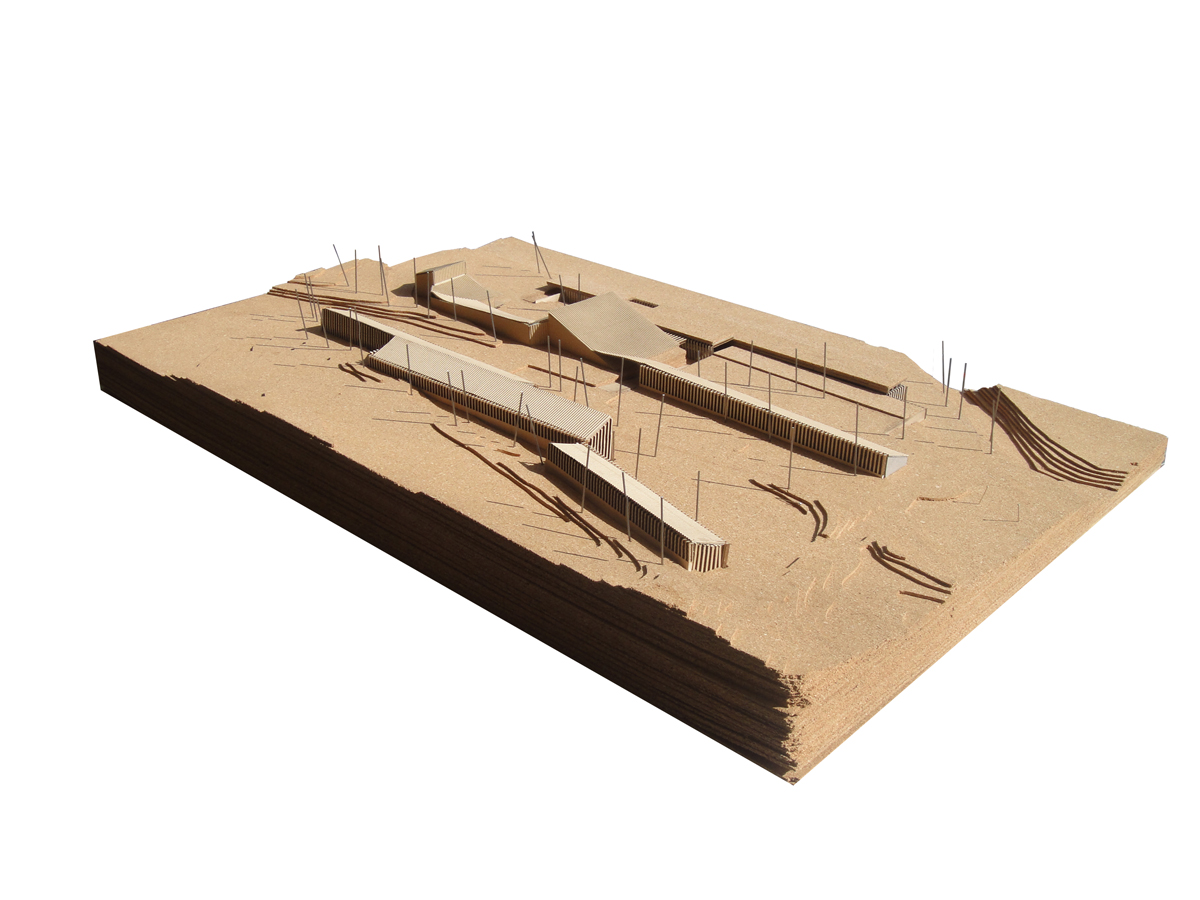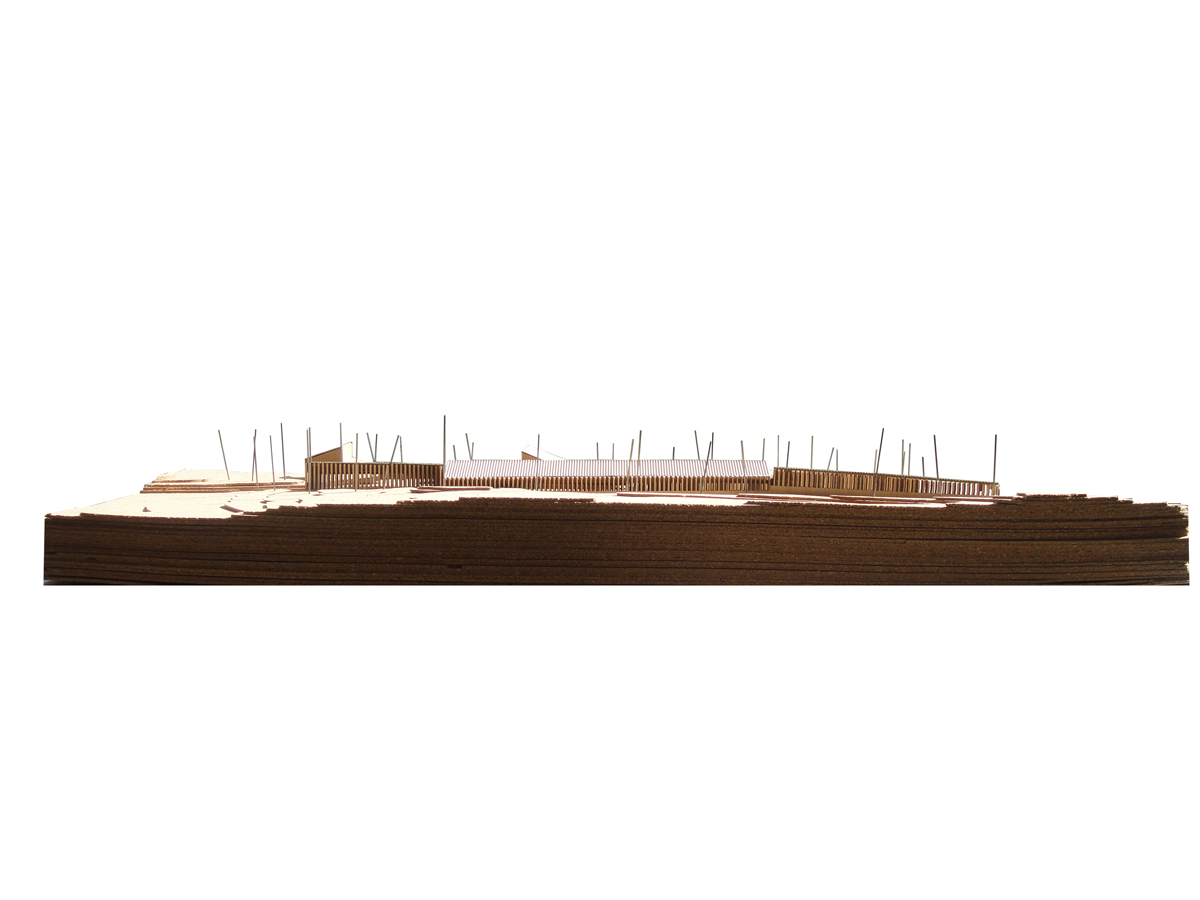 promotor: Propietario del Domaine De l'HORTUS : Earl Vignobles Orliac.
diseño: MICHELE&MIQUEL – arquitectos urbanistas paisajistas
Michèle ORLIAC y Miquel BATLLE
colaboradores M&M: Alberto HERNÁNDEZ y Joaquim CANO
dirección de proyecto y ejecución: Michèle ORLIAC y Miquel BATLLE
fin construcció 1ª Fase: 2018
superficie construida: 5.900 m2
coste: 6.225.000€