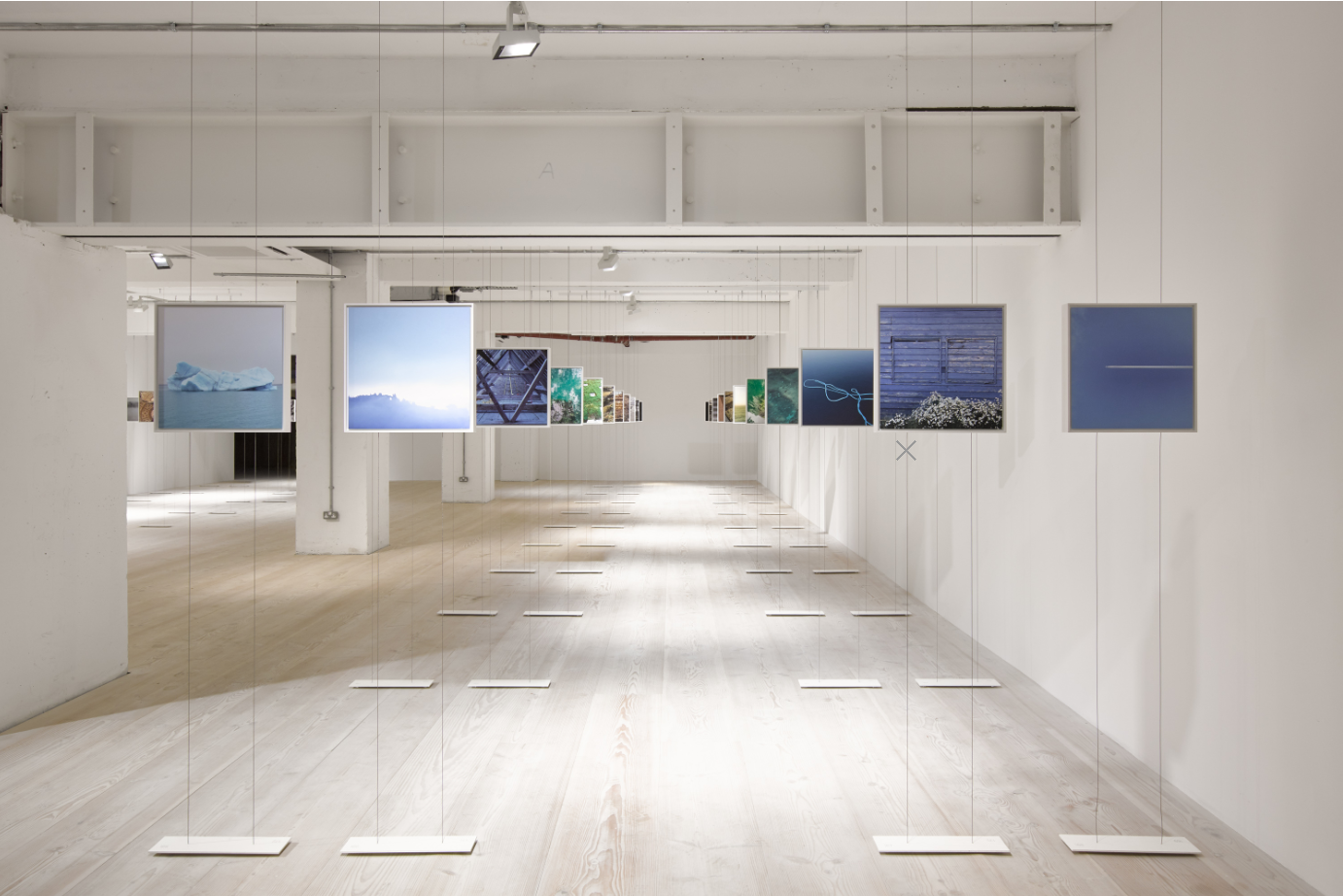 Source: John Pawson
Photography: Max Gleeson
This installation of the unabridged image sequence of Spectrum in an iconic brutalist building in central London was conceived as part of a group show curated by Carrie Scott.
As in the book, the photographs are a uniform size and suspended at eye level in double-sided pairs, using a hanging system developed for minimum visual distraction.
The intention is the creation of an immersive experience that uses the entirety of the gallery space, where the chromatic spectrum is legible from both ends of the room.
the store x A Shade of Pale (text from the website)
Ambitious in scale, celebrating the debut of a select, inimitable group of 10 artists, the exhibition takes over 2 floors of the store x 180 Strand space to feature some 470 photographs by Luca Anzalone, Lorena Lohr, Tom Munro, John Pawson, Federico Pestilli, Marina Shacola, Ellie Tsatsou, Bindi Vora, Marco Walker and Walter & Zonie . The works in the exhibition, however, consciously bear no relation to one another; this is not a group show. Because of the uniquely monumental space afforded by the 180 Strand building, A Shade of Pale takes a curatorial leap that very few exhibitions can, bringing together totally disparate works that can co-exist in the same space but can also be simultaneously independent.
Taking its name from the consciously impenetrable 1967 hit single by Procol Harum, the exhibition focuses on the intricate journey one takes when looking at a series of photographs, rather than embracing a linear conceptual conceit between single images. Each artist was therefore selected precisely because of the way his or her series draw the viewer into a unique world, building narrative slowly, over time, across multiple images. At 180, each body of work is allowed to both figuratively and literally exist, just as they must in their author's heads; singular, complete and coherent in both photographic language and aesthetic. In every instance the collection of imagery by each photographer – not isolated image – is the object and while graceful visual comparisons between the artists do come up, this is a happy accident and one born from the strength of each series not by organising the installation.
Whether it more established artists like John Pawson or Tom Munro turning their hand to a new format – Pawson is of course best know for his architecture, not his photography: at 180 Strand he will show all 320 images from his photographic series Spectrum – or fashion photographer Munro's ambitious installation, a collaged narrative document of his 72 hours spent photographing in Tokyo & Kyoto which is so different from the work he typically publishes – or even a more emerging artist like Ellie Tsatsou, Marco Walker or Bindi Vora showcasing a body of photography in a sculptural way, all of the pieces in the show identify with an immersive, filmic tradition, whereby each artist takes a long- term approach to building a story, constructing these bodies of work across a number of frames, or even years, to create a visual narrative, to build a landscape. The joy in seeing them together is discovering a rhythm to each series that reverberates against the next. A grouping of groups, a gathering of creative visions, an assemblage of aesthetics.