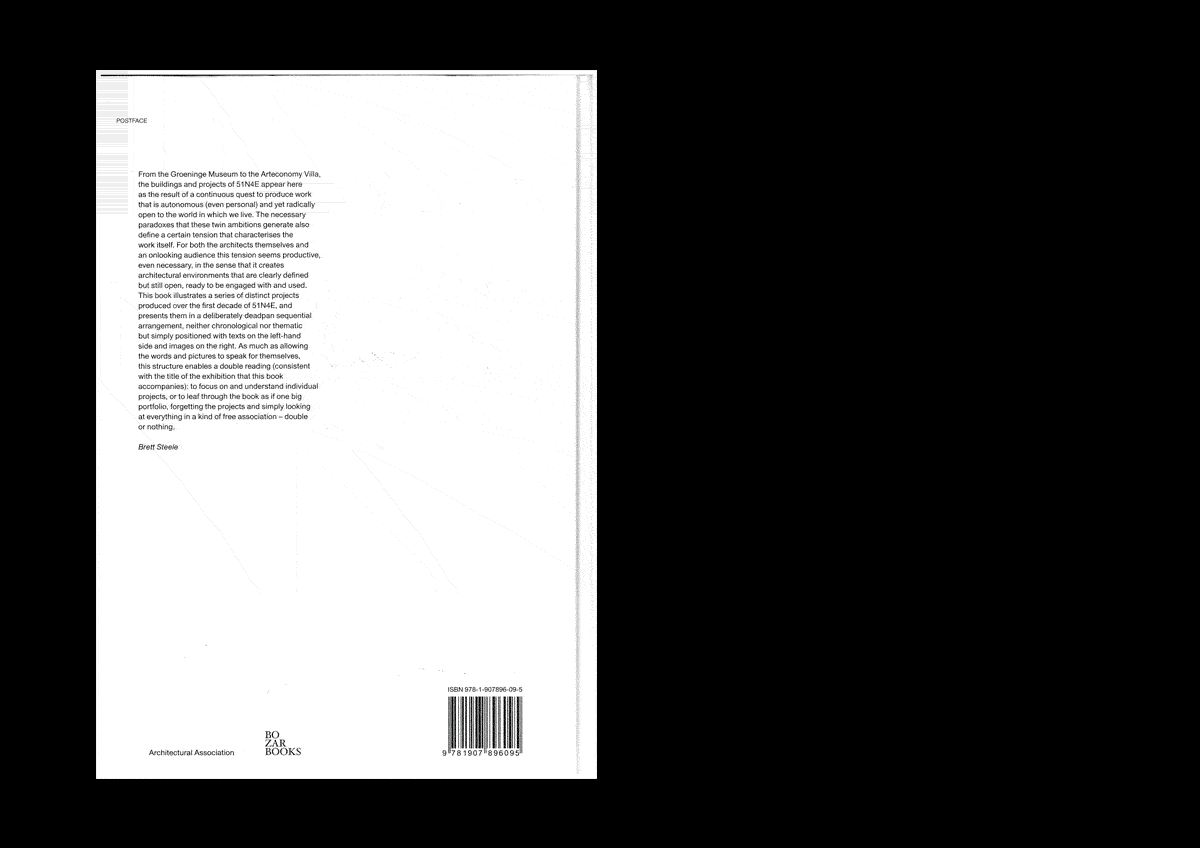 Double or Nothing. 51N4E.
Architectural Association Publications, BOZAR books, London. 2011.
Texto por: Dominique Boudet
'Manifestos'
The simplest thing is to begin at the beginning with their first projects, modest commissions – for the conversion of a farmhouse, the planning of a housing estate, the reorganisation of a provincial museum – that became a kind of 'manifesto' for an alternative approach to architecture. One of their very first proposals, Allotment Athletica, dates from 1998. The brief: to devise a new typology for 35 individual houses and a community building on the outskirts of a Flemish town. Their response: to leave open to the inhabitants their choice of house but to encircle the plot with a surprising collective space: an athletics track on the same loop as an access road, the one separated from the other only by their different surfaces. More than any long speech, this proposal makes explicit the position of the architects: instead of aestheticizing reality (in this instance by designing individual houses), it is necessary to face up to the banality of this reality, the urban periphery. The substitution of a generous mixed public space for the usual meagre service road around the housing development represents an attempt both to transform the relations and behaviour within a small community and to give it a strong identity that raises it above the general banality of the periphery. Achieving such effects calls for bold interventions, unfettered by routine ways of thinking. Of necessity it means being disruptive, even provocative. But, for all this, it does not require sophisticated methods. After all, a double loop, one part surfaced in asphalt, the other a pliable athletics track, is a job for the highways department. As we will see, 51N4E are experts at this dialectic of maximum provocation by minimum means.