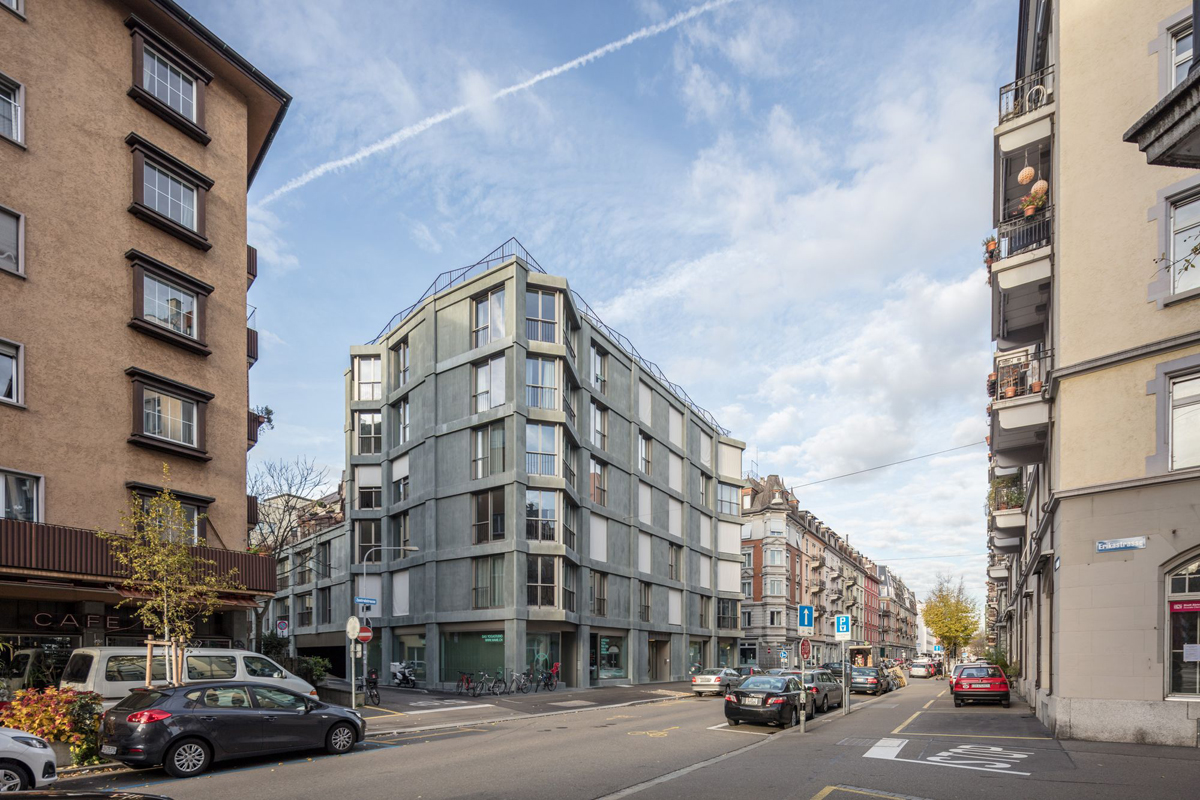 Source: Demuth hagenmüller & lamprecht architekten
Photography: Andreas Buschmann
The property on the corner of Zentralstrasse and Bremgartnerstrasse is one of the large-scale exceptions from the sixties and seventies within the small parcel-shaped block-border district characterized by the typical buildings of the late 19th century. The building thus has a special status. At the urban planning level, there are small measures in the form of crooked outcrops, which locate the building construction in the street area and establish the moving façade tectonics. The moving wall becomes a leitmotif for the over-shaping measure on the head structure, the supplementary superstructures of the low-rise and attic storey, and finally for the room-defining walls of the apartments.
The building is being restored to its basic structure, which is the determining principle both for the facades and the layout of the apartments. Due to the movement of the inner walls, the unfavorable axis dimension and rigid column grid can be played around. Existing supports are integrated into the new walls or released. At the lowest point of the long building, the atrium, which unfolds over four storeys upwards, allows two pierced apartments each. Their depth of almost 26 meters is thereby converted into a multiple kinked movement and recreation room. The light body develops over the floors as a roof in over-high rooms towards a floor-to-ceiling atrium. From the third or fourth floor onwards, the staggering of the superstructures to Erika and Bremgartnerstrasse will create terraces. A common roof terrace for the head building complements its apartments with a valuable outdoor space. The Hochparterresituation in the long building is used in the form of studios and Stadthausmaisonetten as living space, while on the ground floor of the head building four commercial spaces to Zentralstrasse out address.
Colored façade elements made of fiberglass concrete form a braided whole of cornices, pilaster strips and wall surfaces, which makes the building an integral part of the square. In the expression, a fine profiling of the elements gives the building something textile, which correlates with the nature of the joint.