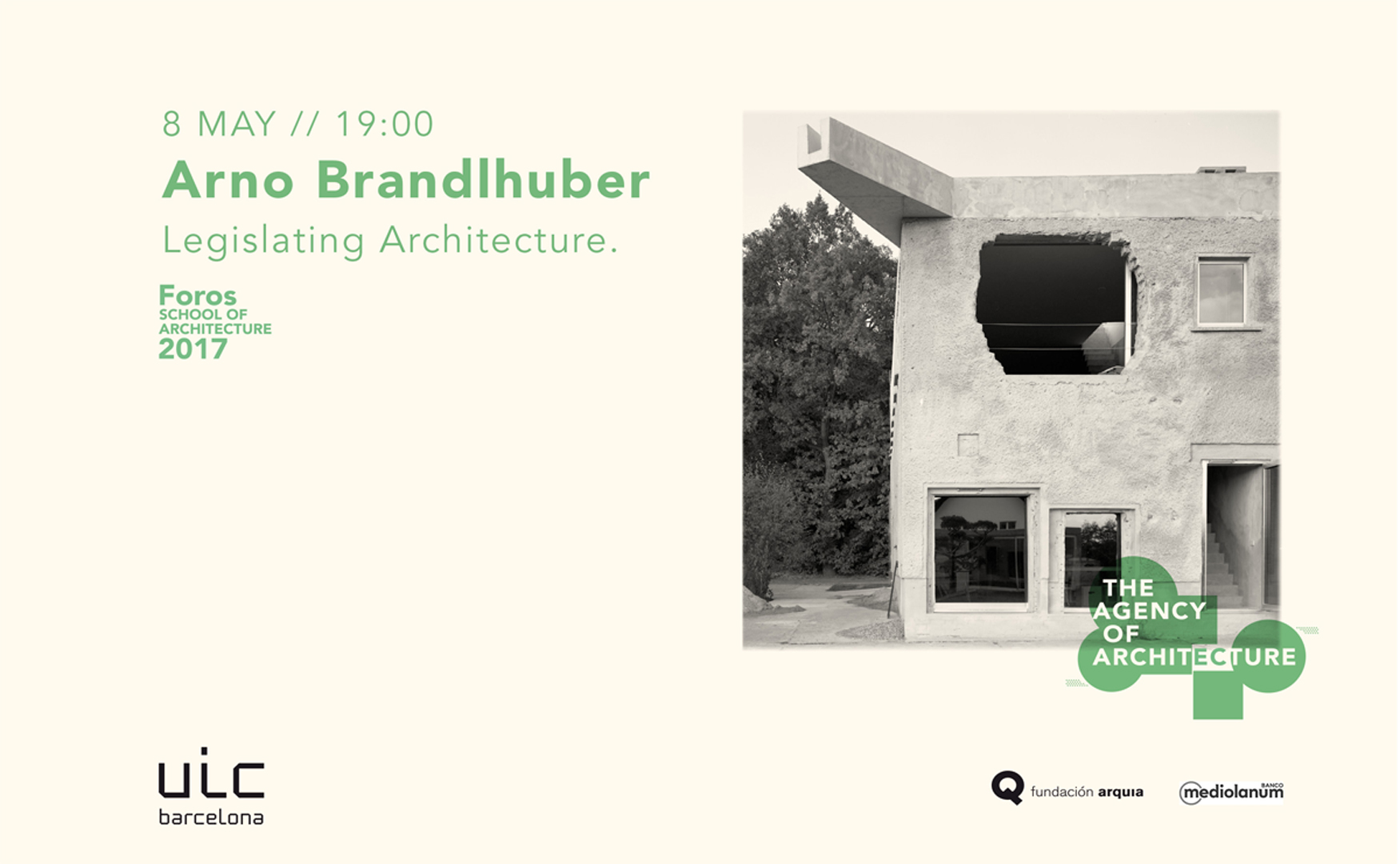 Lunes, 8 de mayo de 2017 – 19.00 h
Arno Brandlhuber / Legislating Architecture
School of Architecture de UIC Barcelona
Aula Magna – C/ Immaculada, 22, Barcelona
Actividad abierta al público. Gratuita
La School of Architecture de UIC Barcelona, el próximo lunes, 8 de mayo, culminará el ciclo de conferencias Foros 2017 "The Agency of Architecture", con la ponencia del controvertido arquitecto y urbanista alemán Arno Brandlhuber. Su intervención "Legislating Architecture", que será abierta al público y que tendrá lugar en el palacete Abadal, sede del banco Mediolanum (c/ Capità Arenas con Diagonal), a las 19.00 horas, toma el título de la película que Brandlhuber dirigió, junto al artista Christopher Roth, y que presentó en la XV Bienal de Arquitectura de Venecia, para mostrar algunas líneas de la investigación que en este momento le ocupa y sobre la que versará su conferencia. En concreto, el arquitecto berlinés, explorará cómo la arquitectura es moldeada por los sistemas de regulación y las leyes de la sociedad, y expondrá su hipótesis que defiende las posibilidades que para el arquitecto tiene la legislación como instrumento proactivo para el diseño.
En 2012 Arno Brandlhuber compró en Krampnitz, un pueblo idílico de Alemania, una antigua fábrica de ropa interior de la RDA y en 2014 la transformó en la llamada Antivilla. Una construcción de hormigón plagada de grandes agujeros que, más allá de convertirse en un ejercicio formal singular, se erigió en un manifiesto sobre lo que debería ser el modelo de pensamiento para una nueva arquitectura del siglo XXI. Frente a la tendencia de demoler lo viejo para construir algo nuevo, Brandlhuber proclama mantener los formatos existentes y cavar en ellos para darles una segunda vida. Es decir, hacer una arquitectura asequible con medios poco convencionales.
Una aproximación a la intervención que le ha valido el calificativo de enfant terrible por la crítica de Berlín, y que se observa en otros proyectos desarrollados en la ciudad como la Haus Brunnenstrasse 9, un edificio en el céntrico barrio de Mitte al que en 2009 dotó de una fachada de plástico semitransparente y de una delicada escalera exterior en el patio, y lo convirtió en un lugar de peregrinaje arquitectónico; o la reputada galería de arte König, en el barrio de Kreuzberg, espacio que se ubica en la que fue la casa parroquial de la iglesia católica de St. Agnes y a la que Brandlhuber en 2015 devolvió a la vida, otorgando al hormigón antiguo una nueva dimensión.
Arno Brandlhuber (Berlín, 1964) estudió arquitectura y urbanismo en la Universidad Técnica de Darmstadt y en la Academia del Arte de Florencia. En 2006 fundó el estudio Brandlhuber y desde 2009 forma parte de Brandlhuber + Emde, Burlon, práctica colaborativa junto a Markus Emde y Thomas Burlon con sede en Berlín. Brandlhuber ejerce la docencia en varias universidades y colegios, desde 2003 ostenta la cátedra de arquitectura e investigación urbana en la Academia de Bellas Artes de Nuremberg y dirige el programa de maestros nómadas: a42.org. Además, ha sido maestro invitado en centros como: la Universidad Técnica de Viena, la Escuela Politécnica Federal de Zúrich o la Escuela de Arquitectura y Diseño de la Universidad de Harvard. Compagina su actividad como arquitecto y docente, con la investigación sobre la producción espacial de la República de Berlín, foco sobre el que ha realizado diversas exposiciones y el libro The Dialogic City: Berlin wird Berlin, recientemente publicado. Además, aborda el tema de "lo legislativo" en la arquitectura como un factor determinante tanto en su práctica constructiva como en un discurso arquitectónico-teórico. Su obra ha sido incluida en la 9.ª, 10.ª, 11.ª, 13.ª y 15.ª Bienal de Arquitectura.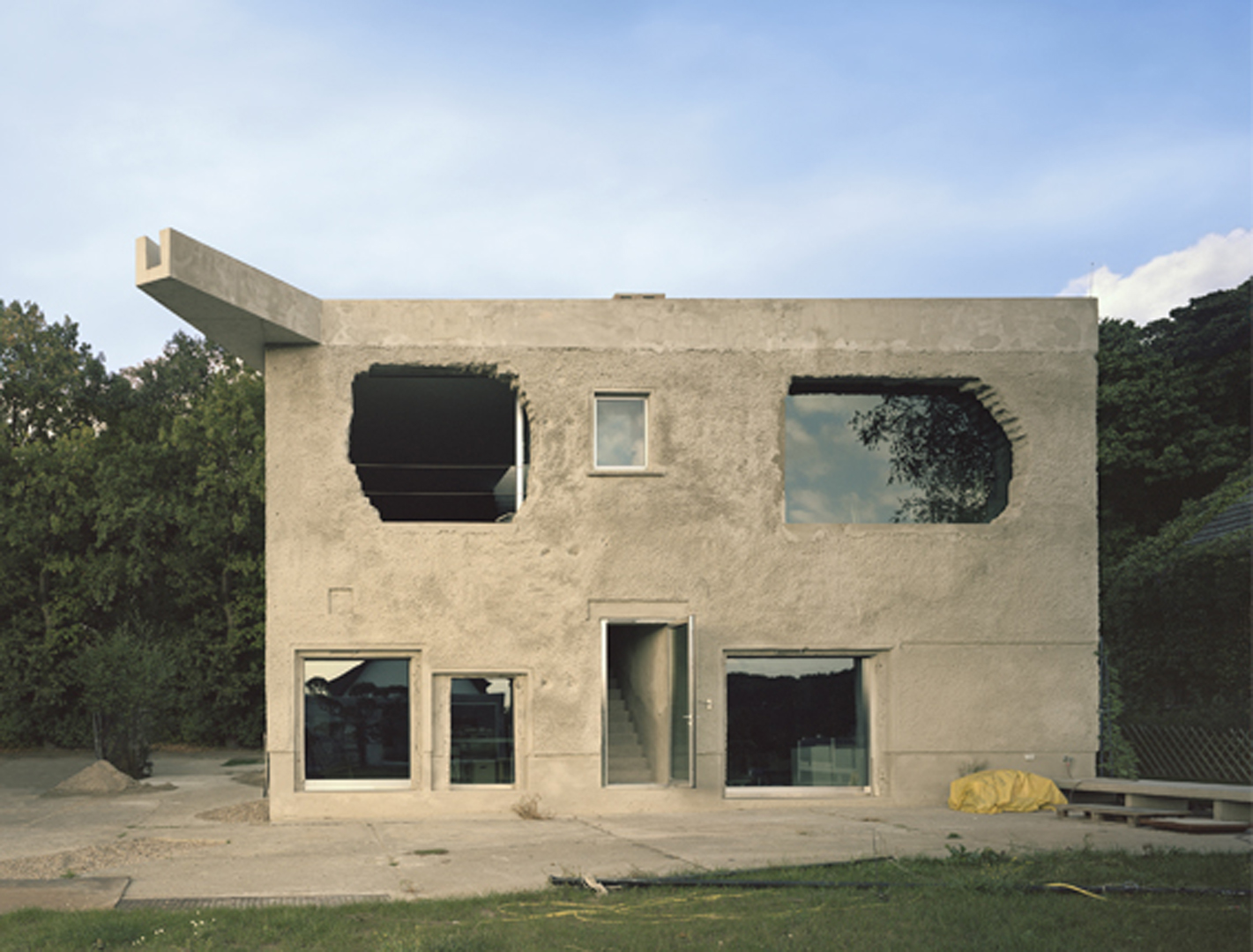 The reconstruction of the former GDR tricot factory "Ernst Lück", located at the Krampnitzsee, southwest of Berlin, does not aim for the mere physical upgrade of the outer shell. Instead, it questions the mandatory standards in current building regulations by proposing an new understanding of architecture and environment.
The gabled roof made of asbestos plates was removed and replaced by a newly designed flat one, which structurally functions as a beam, allowing for up to five meter wide openings in the existing walls, which emphasize the physical presence of the existing structure.
Inside, the building was gutted — non-bearing walls were removed. A functional core, including bathroom, kitchen and sauna, supplements the upper floor. The sauna stove functions as the central point of differentiated climatic zones, which dissolve from the warmer inside, to the cooler outside and can be separated by translucent curtains. Therefore the generous spatial impression remains.
While in winter the heated space shrinks to a core area of approximately 70 sqm, it can expand in other seasons accordingly. In contrast to the climatic gradation, the light differentiates according to the functional needs.
Thus, Antivlla is re-using & re-thinking Reyner Banham's concept of "Architecture of the Well-Tempered Environment" from 1969, combining his two distinct principles of "generating space": The existing structure representing the "constructional aspect"; the climatic gradation representing the "energetic aspect".