| Daniel Gómez Masana
| 2016 | 4º curso | Hochschule Luzern, Suiza 
| Profesores:  Annika Seifert, Gunter Klix and Matthew Howell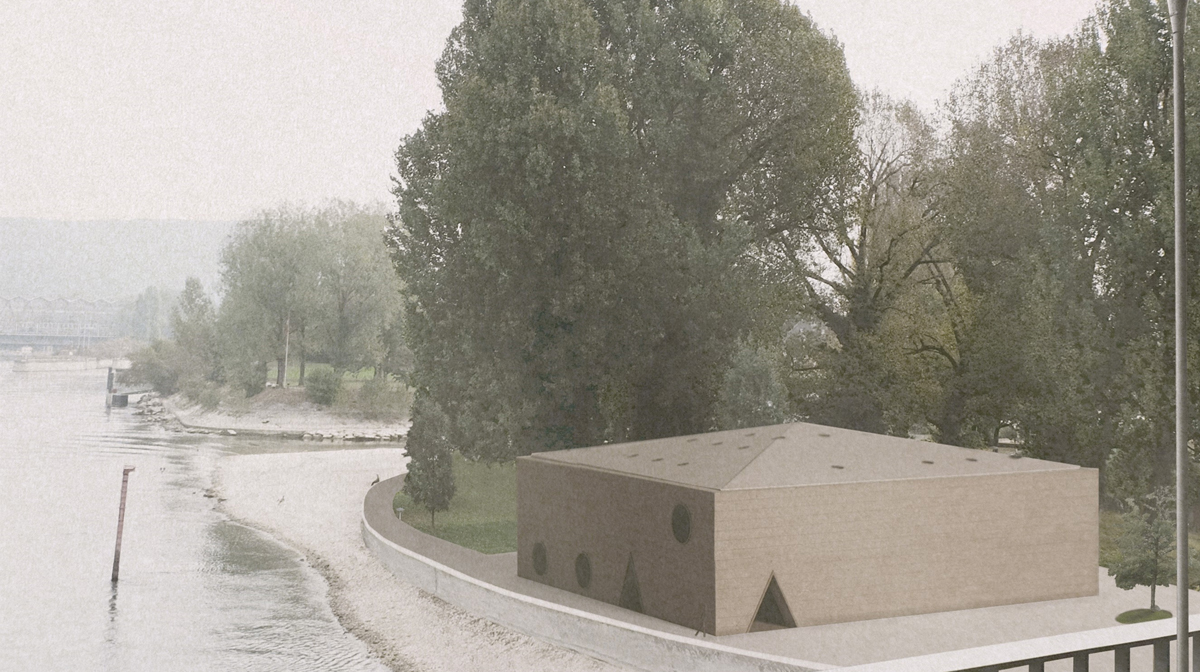 The request is to project a Turkish bath in the periphery Birsköpfli park of Basel. The main idea is to operate from the massive, with rammed earth as an archaic and organic solution, delegating to those mud walls the functions of being structure, envelope, climate provider and a place themselves.
The location is chosen distanced from the huge transport infrastructure, creating a new slope square in front of the building and closing the park in the backward. The geometric forms are chosen as formal elements to give identity to the building and as logic of constructive: make material work just in compression without lintels.
The floor plan organization is made according to an square grid, where the central rooms come to the annexes without any corridor. Those connection happen when a wall doesn't arrive to the other wall, with no doors neither openings. In the two story building, the public spaces and humidity areas are located in the ground level, solving the wet requirement with 'tadelakt' covering, another organic and aged material. The project host as well an existing row club in the river façade, a caffee directed to the park and the entrance orientated in the main square.
The distribution of both floors is analogous, as the continuation of the walls for constructive reasons. The first floor slab and ceiling is made in massive timber, as it has no humidity requirements. The openings of the building are minimized to enclose it, and some round gaps appear in the interior walls as a place to be that hugs you.
In terms of energy massive is the main concept for the thermal stability with inertia. The selected active heating walls provide different temperatures that allow a climate transition throw all the building. The constructive materials are chosen to use planet's resources more sensibly, which is also the main energy strategy.
The project is based in three materialities: the rammed earth, the solid timber and the black tadelakt. The walls are based in 90cms of earth and mud bricks by cause of the drain water in façade. The basement floor is a cork, trass lime and earth mixture, with rammed earth pavement and wax finishing. The 1rst floor slab and ceiling are made in solid wood 18cms, earth mixture and timber pavement and standing seam metal roofing.