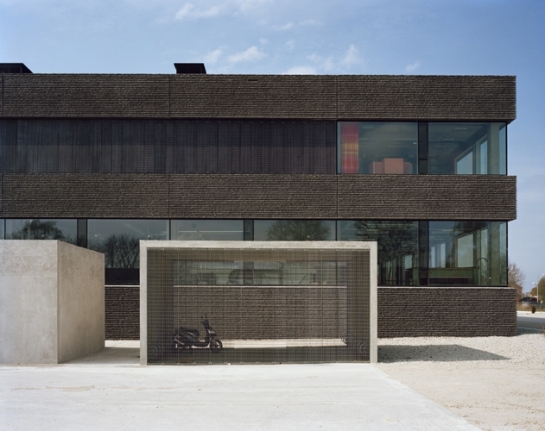 Fuente: Johan Celsing Arkitektkontor
This building is the domicile shared by two separate cultural institutions, the Swedish Traveling Exhibitions and The Swedish National Heritage Board. Both agencies were moved from Stockholm to Visby, the medieval hanseatic port, at Gotland in the Baltic. The location is outside the old town, at A7, a former military compound.
The multi-purpose building has workshops, ateliers and offices and was inaugurated in 2008. Each institution is located around a courtyard and linked to the other at the central stair hall. Public facilities such as conference and dining rooms are located along the upper courtyard.
The material theme of the building is elementary prefab concrete, which for the client was a prerequisite for its rapid construction.
The concrete varies from load bearing sandwich elements with distinct reliefs along the perimeter to polished Terrazzo elements in the stair hall and in-situ cast concrete on floors and outside cubicles.
The stone-like texture on the facade is achieved with the use of a standard silicon mould. The relief relates the exterior to the local sediment, limestone geology. (The rocky beaches on the island have numerous "Rauks" that are a particularity of the local Limestone ground.)
In contrast to the exterior the two courtyards, the glazed facades, and the interiors are all clad with Larch wood in surfaces of plywood, glue-laminated and massive.
The ground surrounding the building is for entries, loading zones and parking. The local heaths, sandy and floral, inspire the landscaping theme. Parking and open areas are gravel with local orchids randomly spread. For walkways and at loading zones large and long in-situ cast concrete surfaces are seemingly scattered to create patterns and paving.