Fuente:Alison Brooks Architects, Dezeen, BD
Fotografía: Paul Riddle
Newhall South Chase Lot 3
This 84-unit scheme for Linden Homes will complete South Chase, Phase 1 of the award- winning Newhall development in Harlow, Essex. ABA's approach integrates a mix of new and familiar house typologies, prefabricated timber construction and a highly efficient masterplan to maximize living space and flexibility for individual homes. The scheme's geometric and material consistency was inspired by the powerful roof forms and simple materials of Essex's rural buildings. ABA has utilised these geometries to bring light into terraced courtyard houses, allow rooms in the roof, permit oblique views to the landscape beyond the site, and to introduce a sculptural rhythm to the scheme's streetscapes.
The development consists of 84 units across four building types; 5 Apartment buildings containing 6,7 or 8 flats each; 14 Villas; 29 Courtyard Houses and 7 Terraced Houses totalling 84 units, 26% of which are affordable.
Masterplan
ABA's masterplan was developed in conjunction with Studio REAL and responds to the site's Design Code as well as Lot 3's prominent corner location on the South Chase site. Larger scale apartment buildings hold important corner locations to both define north-south streets and frame views to the wider countryside and beyond. 126sm villas line the north south streets and act as bookends to the more densely configured courtyard houses of the east-west lanes.
All housing types incorporate covered front porches; central stair halls; roof terraces; Juliette balconies and cathedral ceilings. Loft spaces either finished as bedrooms or can be retrofitted by homebuyers as workspaces, additional bedrooms or games rooms. Villas and Courtyard houses all have a ground-floor study – ABA consider this additional room as essential for accommodating the electronic media and home working lifestyles of the 21C.
Materials
A simple palette of materials – FSC-rated, pressure treated Siberian Larch with a non-toxic water-based stain; Welsh slates; recessed gutters; Protec Composite Windows and simple steel railings allow the subtly angled surfaces and overall scheme geometries to be clearly expressed. Ground floor porcelain tiled floors on a beam and block substructure provide thermal mass for underfloor and passive solar heating.
Courtyard Houses – A New Model for UK Housing
The courtyard houses are a radical reconfiguration of typical long and narrow 5m x 20m terraced house plot to a 9.5mx10.5m plot. This square plot permits a very wide house footprint, T-shaped with courtyard spaces or 'outdoor rooms' that interlock with kitchen/dining and living rooms. A covered front porch creates a important semi-public threshold between the house front door and the street's shared surfaces. Inside, a very generous central hall creates a sense of spaciousness; we consider front halls as important/functional as any other room in the house.
A large 1st floor roof terrace above the kitchen in effect lifts the garden to gain more hours of sunlight. Master bedrooms have cathedral ceilings that follow the roof line, and the 3 bed versions of the house have a generous loft bedroom.
Villas
The villas are two-storey, L-shaped in plan to provide a front parking court that also maximizes south facing orientation and views to the street/landscape beyond. Covered front porches with balconies give the houses an open and inviting street presence. Front 'outriggers' contain the study and bedroom above. This and the master bedroom have sloped ceilings that reflect the exterior geometry of the roofs. Central entrance halls lead to an open plan living, kitchen and family room and the study that can double as guest bedroom. Large expanses of glazing that lead onto timber decks draw the garden into the house and create a sense of informal spaciousness. Solar hot water panels are standard on the villas and courtyard houses apartments.
The Terraced Houses – Affordable
The seven terraced houses, of 90sm and 115sm, are set back on their plots to provide south-facing front gardens. Each end of the terrace pulled forward to create and enclosed 'courtyard- like' street. The terraces follow the scheme's principles of central hall, open plan living/dining and generous bedrooms, with a convertible loft space and cathedral ceilings in 1st floor bedrooms. Each house has 5.4 sm of Photovoltaic roof tiling.
The Apartments
Five apartment blocks form important urban markers at street junctions, and act as gateways to the development. Each block's slightly angled geometries give the facades a directionality that responds to their orientation, views, and integrates their larger massing with the highly articulated masses and angled roofs of the adjacent houses. Upper floors clad in brick cantilever over the main entrances to provide a sheltered porch – these are expressed as timber clad 'cuts' in the brick volumes. Flats all have generous terraces, French doors and Juliette balconies, all of which increase the sense of space, maximize natural light and provide wonderful views for both affordable and for sale apartments.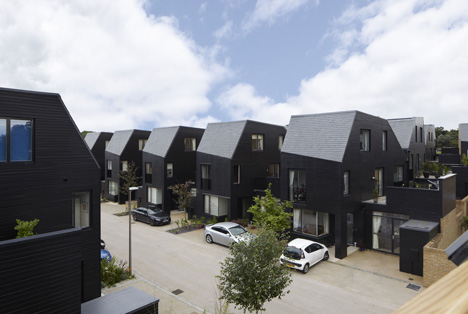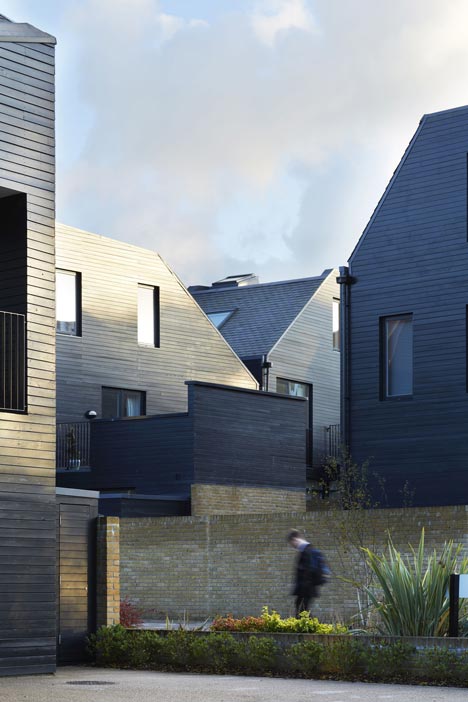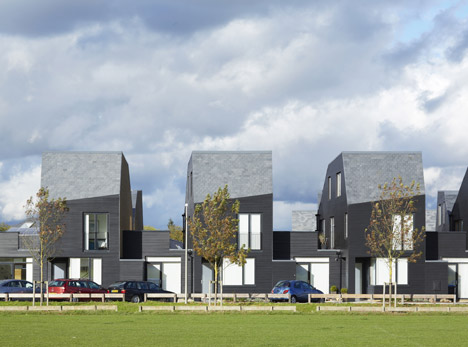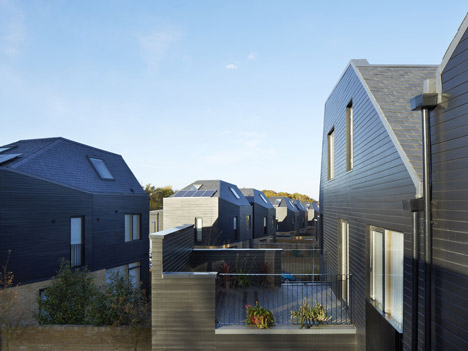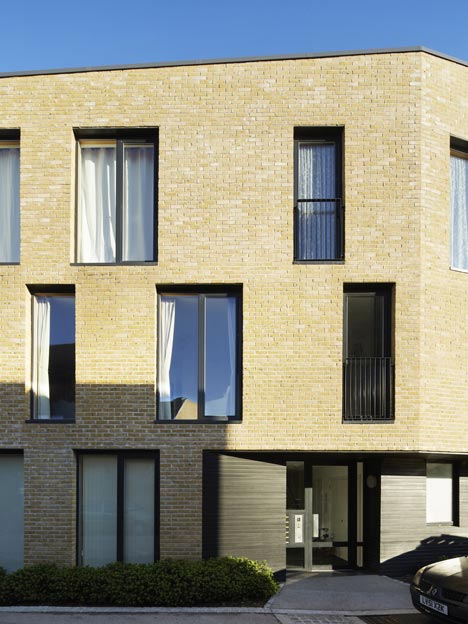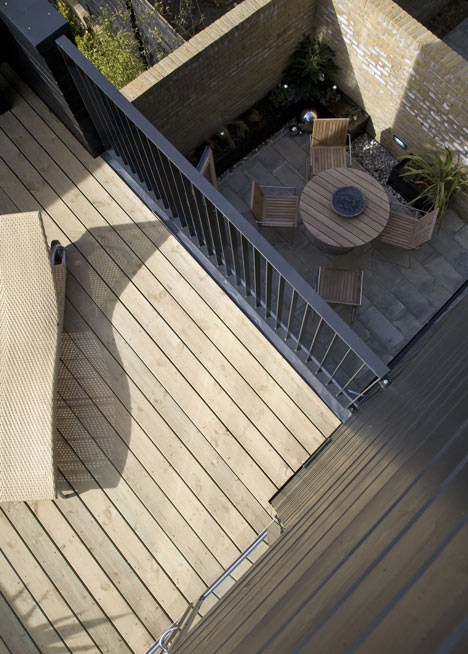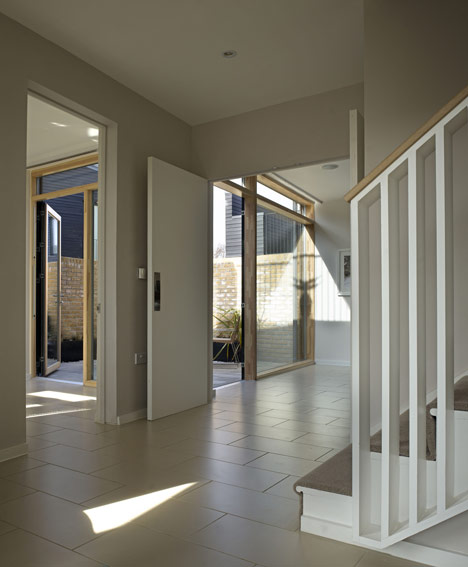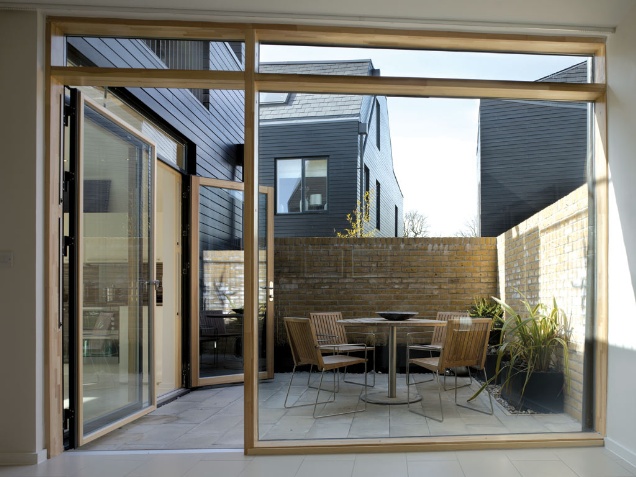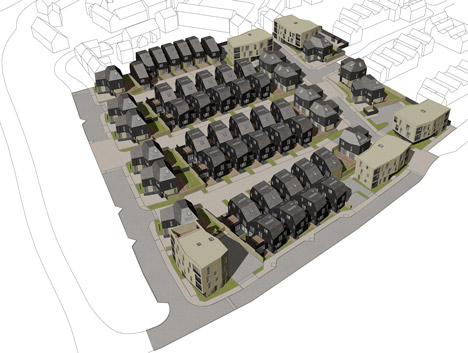 Project name: South Chase Housing
Architect Alison Brooks Architects
Masterplanner Roger Evans Associates
Structural engineer and CDM Thomasons
Main contractor and M&E Galliford Try Partnership
Developer Linden Homes
Planning authority Harlow Council