Fuente: Dezeen
Fotografía: Fernando Guerra
Rooms are contained within wooden boxes inside this long and low concrete house in Brazil by architecture office Studio MK27.
Located outside São Paulo in Porto Feliz, Casa Lee is a single-storey residence that stretches across the width of its site to accommodate a large open-plan living room, four bedrooms, a guest suite and a gym within its walls.
Studio MK27 positioned the living and dining room at the centre of the plan, where it can be opened out to the garden on both sides using a series of sliding panels. This allows cross ventilation and also connects the room with a decked terrace and swimming pool running along in front.
The two wooden box-like volumes sit either side of the living room and accommodate recessed bar and kitchen areas. One also contains the guest suite, while the other encases a row of bedrooms, a bathroom and the gym.
The timber walls of the boxes comprise louvred mashrabiya panels, designed to allow ventilation whilst maintaining privacy.
The gym and sauna are located at the far end of the building. Glazed walls slide open on one side of the rooms, leading out to a small secondary terrace and private pool.
Studio MK27's Eduardo Glycerio designed furniture especially for the house and worked alongside interior designer Diana Radomysler to plan the fittings for each of the rooms.
Led by architect Marcio Kogan, Studio MK27 has completed a few houses in São Paulo recently, including the chunky concrete Casa Cubo and the timber and glass Toblerone House, which was filmed through the eyes of the client's pet cat. See more design by Studio MK27.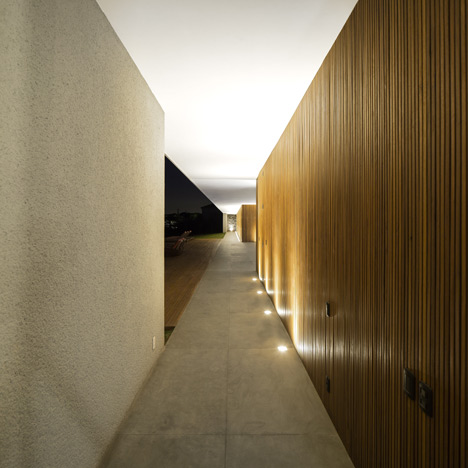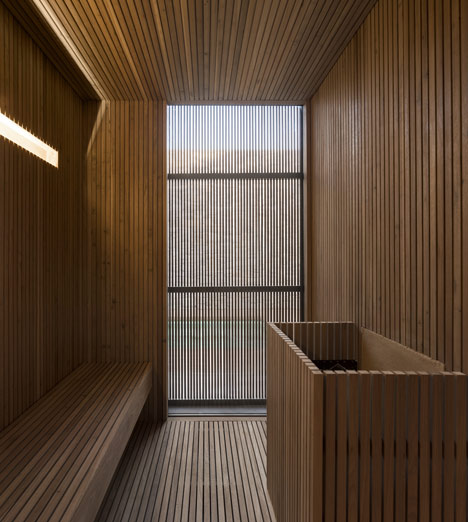 [wpcol_1third id=»» class=»» style=»»]
Project:
Lee House
Location:
Porto Feliz, SP, Brazil
Project:
October 2008
Completion:
October 2012
Site area:
4000 sqm
Built area:
900 sqm
Architecture:
Studio MK27
[/wpcol_1third] [wpcol_1third id=»» class=»» style=»»]
Architect:
Marcio Kogan
Co-architect:
Eduardo Glycerio
Interior design:
Diana Radomysler
Custom-designed furniture:
Eduardo Glycerio, Carolina Castroviejo
Collaborator:
Ricardo Ariza
Landscape designer:
Gil Fialho
Structure engineer:
Benedicts Engenharia
[/wpcol_1third] [wpcol_1third_end id=»» class=»» style=»»]
Team:
Beatriz Meyer, Carlos Costa, Carolina Castroviejo, Eduardo Glycerio, Eduardo Gurian, Elisa Friedmann, Gabriel Kogan, Lair Reis, Luciana Antunes, Marcio Tanaka, Maria Cristina Motta, Mariana simas, Oswaldo Pessano, Renata Furlanetto, Samanta Cafardo, Suzana Glogowski.
Construction manager:
SC Consult
Contractor:
Gaia Construtora
[/wpcol_1third_end]