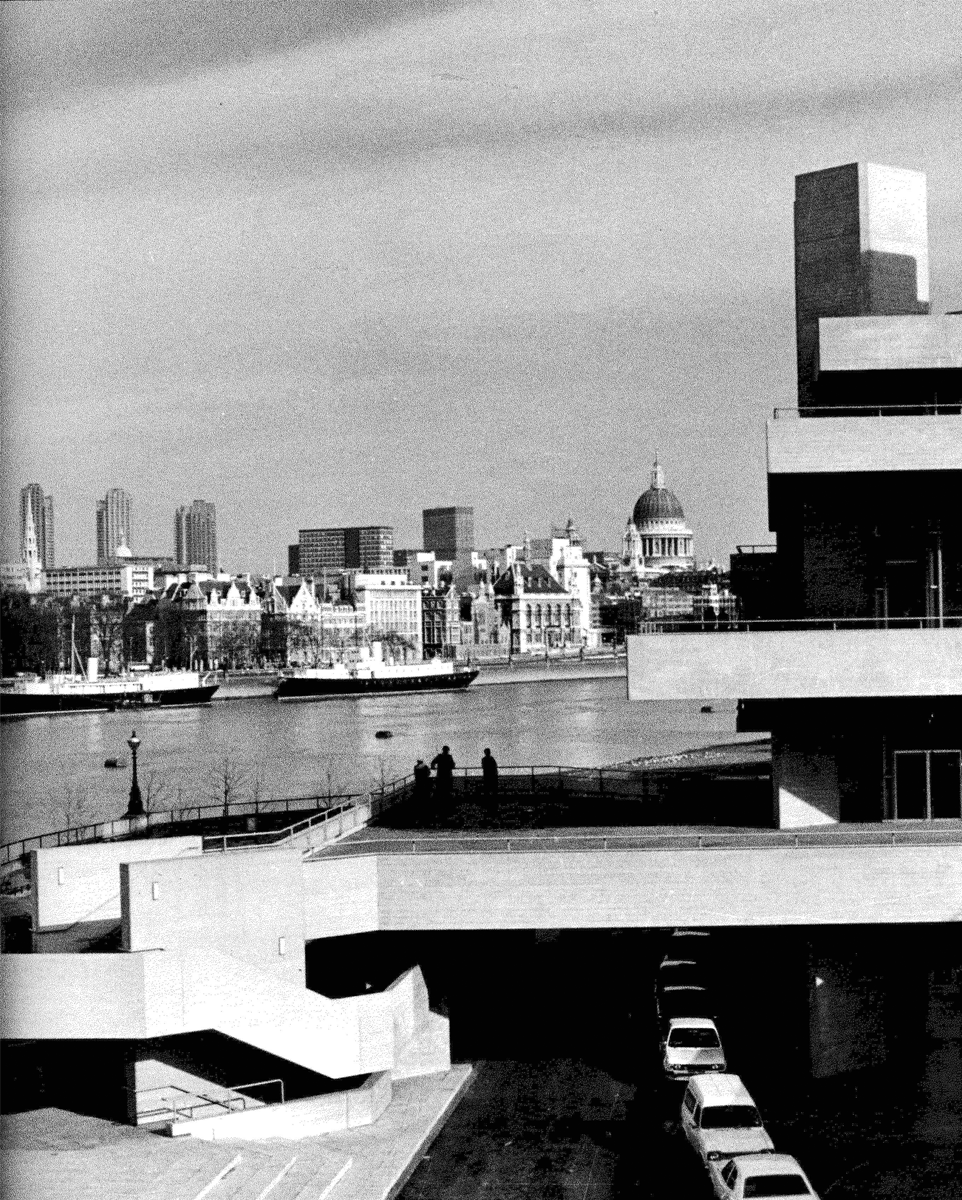 Source: Denys Lasdun: architecture, city, landscape
Photography: Donald Mill
The National Theater stands a little downstream of Waterloo Bridge  on the South Bank of the Thames where the river begins to turn into Kings Reach and sweeps around towards Blackfriars and the City. The building stands in a commanding position , with two black flytowers rising from layers of horizontal terraces. These are inhabited on many levels. They cascade to the riverside walk and create deep undercrofts, shadows and recesses. The concrete is whitish-grey , bare and unadorned. Its planes and facets hover out towards the sorroundings and are modelled in light.
There is no doubting the monumentality of the National Theatre. It is a building of grand gestures and bold forms which varies in shape and silouhettes as one moves around. The flytowers supply the dominant hierarchy  but this lives in perpetual tension with the sliding horizontals beneath. Set backs and projections accentuate the overall form, which is cut through with openings of varying size and depth.  People can see out -and be seen- at all levels, processing through the framework or looking down at the river.
The horizontal levels bind the building into a coherent whole and extend back and forth in response to changes of interior use and exterior view. They support the public life of the structure and open out its contents to passer-by. They flow down towards the river, connect with Waterloo bridge or with the upper levels running by the Hayward Gallery and the Festival Hall, and allow  vantage points towards Westminster.
Towers of various sizes , shapes and profiles create a dramatic skyline. They house flying equipment, elevators or ventilating machinery, and signal the positions and directions of the main auditoria within. The Open Theater is curved in plan; its axis is at 45 degrees to both the bridge and the river. Its flytower acknowledges this diagonal and is angled accordingly. The ceremonial parts of the National Theater are constructed from insitu concrete; the workaday and more private areas are to the rear a more neutral brick and precast concrete box.