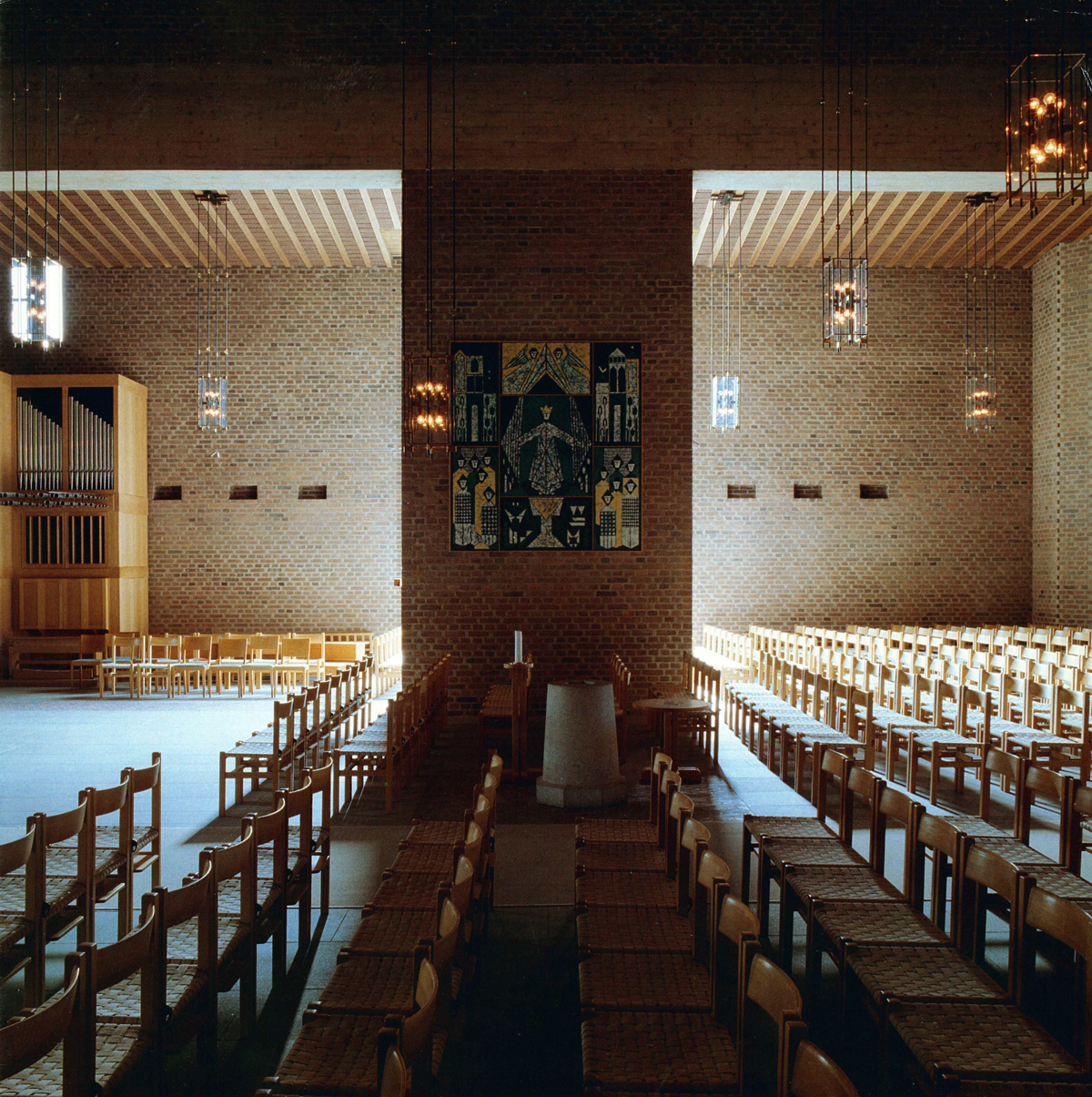 Source: archipicture  | The Architecture of Peter Celsing. Wilfried Wang. Pb. Internos Books.

After an architectural competition in 1952, the Swedish architect Peter Celsing was commissioned to build the Härlanda church. The competition design was highly praised by the jury members. After some planning adjustments, the ground-breaking ceremony took place on October 31, 1956. The opening of the church was celebrated on November 30, 1958.
The Härlanda Kyrka in Gothenburg forms a balanced ensemble of several buildings in a green space. The main components of the composition are the church building, a freestanding bell tower and a parish building. All these elements of the ensemble are executed in dark brick. The church itself appears as a large and closed volume with asymmetrically sloping roof. Access to the church is from a forecourt via a square opening. The arrangement of the entrance reflects the strong asymmetry of the façade. The front door is flanked by two slightly larger square windows. A grid divides these windows into numerous, small, square glass surfaces. A large window, which is divided into nine fields, dominates the closed south facade. On the north side the cube-shaped volume of the the sacristy protrudes from the main volume and is connected to it. In the tower are three bells that were cast in 1958 in Sigtuna.
The interior is traditionally oriented in east-west direction and is divided into a naive and an aisle. The choir room is located in the extension of the nave, with the altar on a raised podium. The baptistery is located in a central arrangement, while the organ is located in the eastern part of the aisle. Seating is made by interconnected rows of chairs, also designed by Peter Celsing. The walls of the interiors are made in the same dark bricks as the exterior of the buildings. Along the entire north wall are recurring numerous rectangular holes for ventilation. The floor is made of sintered natural stone tiles, with local areas in red brick. The cassette-like lattices of the windows produce a gently filtered light.