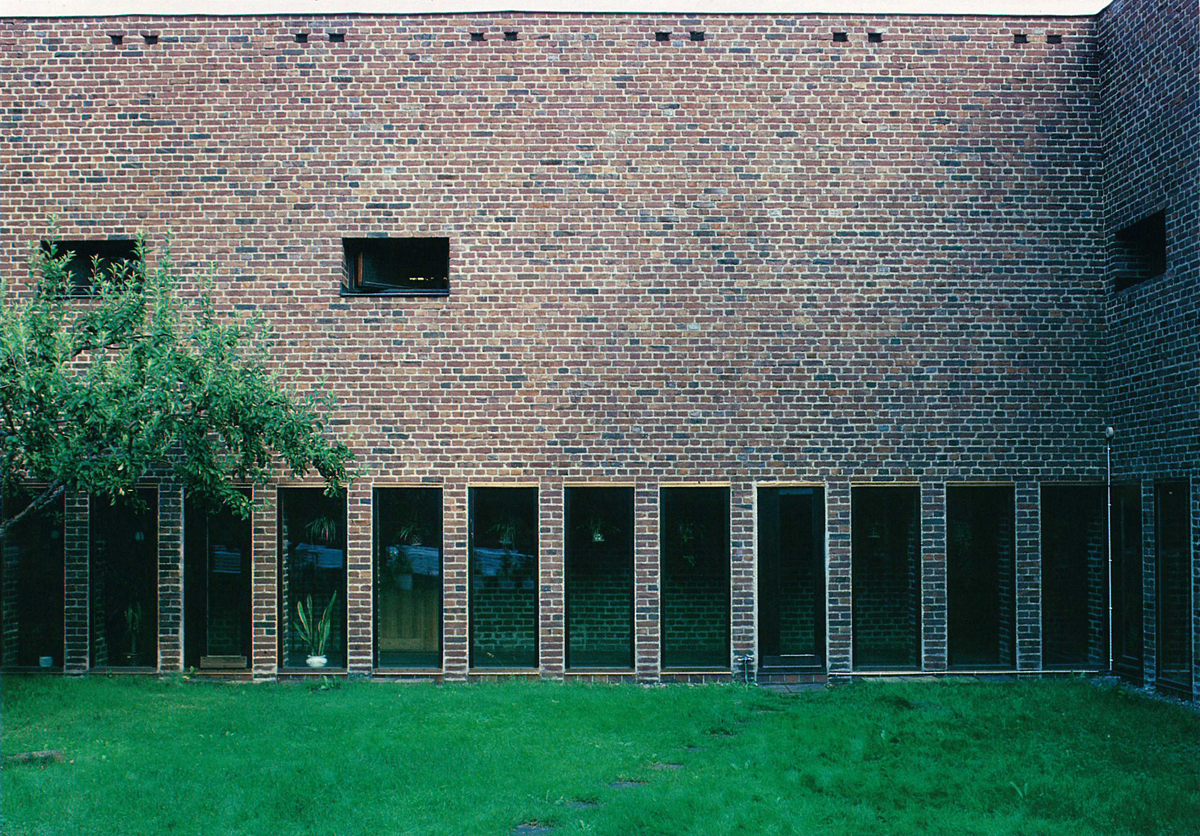 Source: archipicture. | The Architecture of Peter Celsing. Wilfried Wang. Pb. Internos Books.
The St. Thomas Church, designed by Peter Celsing, is located in Vällingby, a newly built modernist suburb of Stockholm. The surrounding area is characterized by the presence of advertisements, a shopping center and the bustle of and to the subway station. In this environment, saturated with visual and acoustic stimuli, St Tomas Kyrka forms a striking ensemble of buildings, trying to give the center a character. The church forms a quiet antipole and does not compete with its surroundings.
The building appears as a horizontally emphasized building mass. The church tower is attached to the building and is located behind the sanctuary. The belfry with twenty bells are within a framework made of exposed concrete. This framework forms the upper end of the tower and also emphasizes the horizontal.
The ensemble of the Church of St. Thomas can be interpreted as an oasis of monastic seclusion in the busy environment. The building complex rises above an almost square floor plan with an internal courtyard. The seclusion and quiet of the garden in the courtyard has been conceived as a place of reflection in the busy life of Vällingby. From the adjoining rooms windows and doors provide views and access to the garden. In return, the building has only a few openings to the outside, so that the annoyance caused by road noise and the distraction of everyday life is kept as low as possible. The church itself takes up a complete side of the floor plan. A traditional east-west orientation of the church was abandoned in favor of an entrance directly from the town square. Access to the church is via a door set deep in the wall. An anteroom leads either to the parish building or into the church.
The interiors of the complex are kept in brick as well as the exterior. The church space is of clearly cut geometry. The ceiling is dominated by exposed concrete beams, the walls are made of bricks and the floor is made of clay tiles. The baptismal font was hewn from a single large block of granite. To the side of the sanctuary is a wooden organ, which appears as a piece of furniture in front of the brick wall. For seating, chairs made of light wood with leather upholstery are set freely into the space. Elegant lamps made of blackened steel bars are hanging from the ceiling.