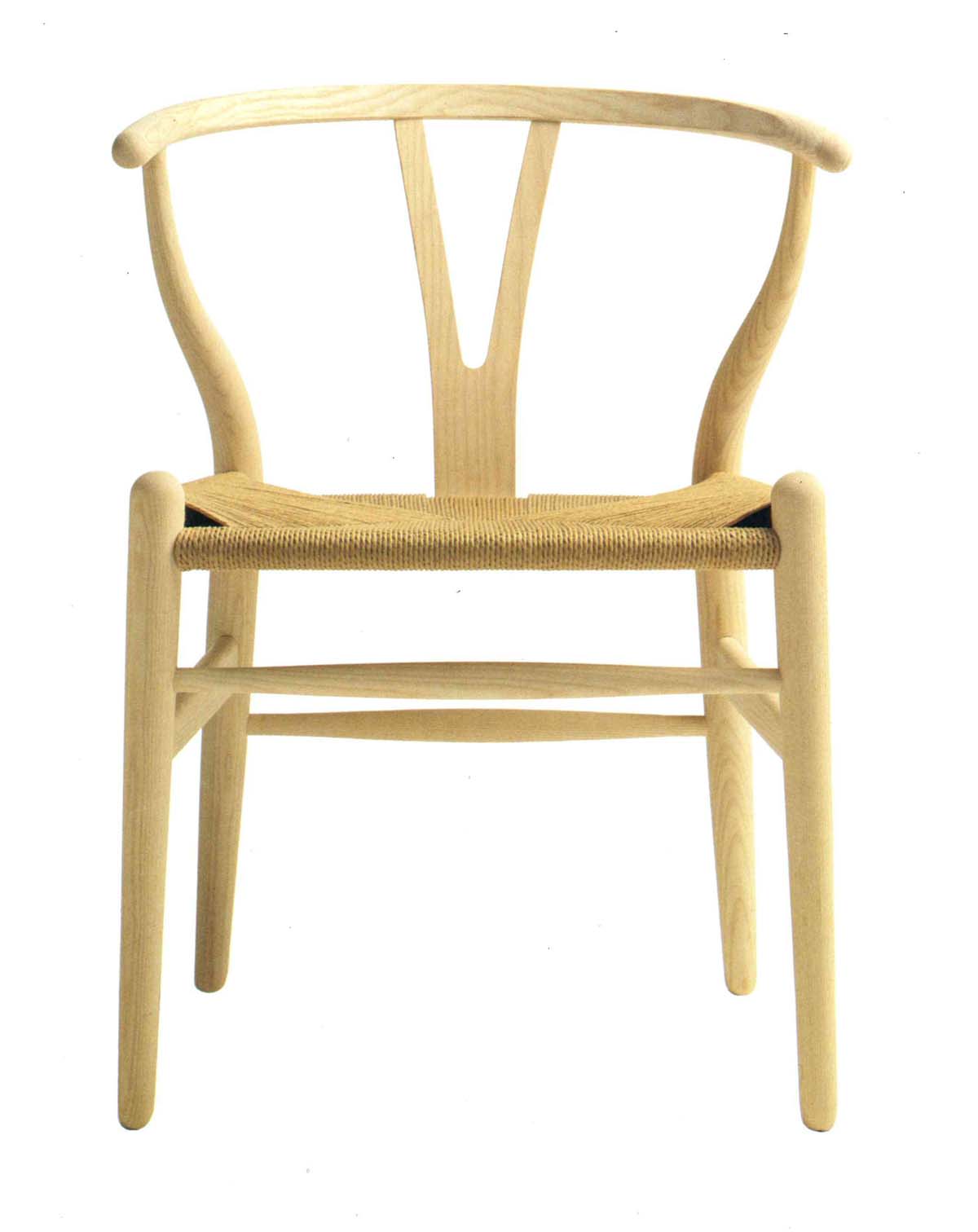 Fuente: Hans J. Wegner, Jens Bernsen. Ed: Dansk Design Center; Catalog Carl Hansen & Søn, Passionate Craftsmanship. Every piece comes with a story.
The chair holds a special position in the world of furniture. Many people can make functional tables or usable cupboards but designing a sound chair is muchm much more demanding.
Wegner is the chair-maker of chair-makers whose name has been entered into the history of design.
He has, however, succesfully worked with many other design jobs.
Tables, for example, where the bearing legs play superbly with constructive possibilities and show logical solutions other than the traditional four-legs-and-a-frame between them to carry the top.
Wegner is happy to work with round tables, for they have the particular quality of creating a circle of people around them, physically and symbolically.
Often they are conceived together with a certain chair so that, together, they form a unity.
The most sold Wegner chair is The Wishbone Chair from 1950. It has roots in The Chinese Chair, yet is also unmistakably itself.
CH24 WISHBONE CHAIR
One the very first models Hans J. Wegner designed especially for Carl Hansen & Søn, the CH24, or Wishbone Chair, has been in continuous production since 1950.
With an unprecedented form that is uniquely its own, the iconic work – inspired by portraits of Danish merchants sitting in Chinese Ming Dynasty chairs – holds a special place in the world of modern design.
Wegner took a giant leap in furniture design with the CH24, combining the top rails and arms into a single piece. To give stability to this steam-bent top and ensure comfortable support, Wegner developed the characteristic Y-shaped back that earned the chair its famous nickname.
Many view the CH24 as an ideal chair as it fulfills functional demands for comfort and stability as well as aesthetic desires for distinctive, beautiful form. In other words: it captures the essence of modern Danish design.
More than 100 operations are required to manufacture each chair with most carried out by hand. The envelope-woven seat alone takes a skilled craftsman about one hour to create using approximately 120 meters of paper cord, whose impressive durability makes the chair strong and long lasting.