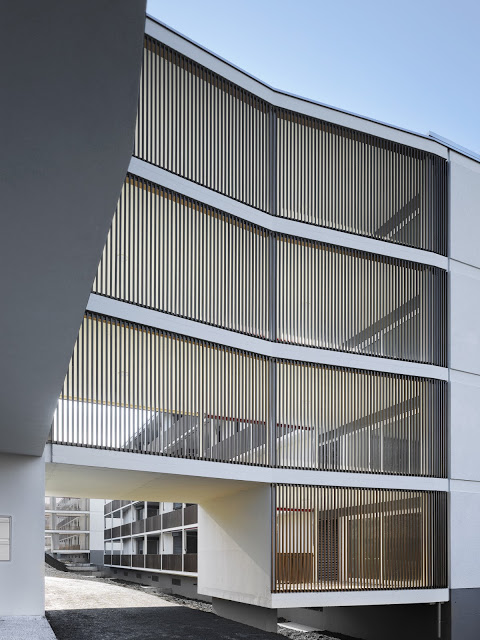 Fuente: Burkard Meyer – Architekten BSA
Fotografía: Roger Frei
The three elongated buildings following the course of the Kantonsstrasse are each connected to a solitaire building embedded in the striking incline of the slope by means of a "hinge" of spacious loggias. This construction pattern guarantees good noise protection from the street and allows the open, undeveloped landscape on the slope , to flow into the sunny, high quality, exterior areas.
The bedrooms of the buildings set along the street are aligned towards the quiet south side and only the living rooms push through the building in a cross direction, providing transparency and fascinating views. The alignment of the rooms allows for flexibility in the space allocation and a wide range of different apartment types. The solitary volumes in privileged locations, which reach into the slope, accommodate more spacious apartments extending up to the attic storey. A continuous line of verandas oriented towards the quiet courtyard, keep the ensemble together and provide enhanced living quality with private outside areas.
While the steet fronts, with their pale painted walls above the dark foundation, have a more closed appearance, the façade oriented towards the courtyard has a very delicate appearance. The large glass fronts, the bronze paling guardrails and the beige and red fabric of the canvas awnings and curtains create a diverse picture. Due to the different textures and harmonious colours, the building structure , the openings and the verandas are lent a unique character that adds a new quality to the cost-effective construction.